Jess Cornelius
Jess Cornelius
Noisy Ritual People Powered Winery, Brunswick
Saturday 18 March 2017
Free
WINE TASTING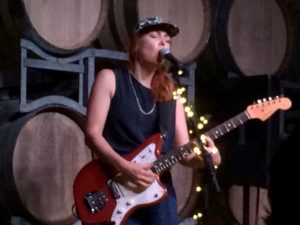 'Totes awks' as the kids say. Emerging from the unisex toilet after Jess Cornelius' set at Noisy Ritual People Powered Winery on Saturday night, who should be waiting in the hand-washing vestibule to use the toilet next, but Jess Cornelius herself. It didn't seem like quite the right time or place to congratulate her on a fine performance or her recorded oeuvre, as we sheepishly passed each other, but I was at least thankful I'd remembered to put the seat down.
I was reminded of the time I stood at the urinal next to Leigh Matthews at the Hawthorn players' mad Monday function just a couple of days after they had won the 1983 premiership. He might have taken it the wrong way had I taken the opportunity to congratulate him on his five goals while I was standing there holding my own todger. And I certainly observed urinal etiquette by not looking down. Likewise with Jess, I didn't hang about to listen. I just washed my hands and left.
I had never been to the Noisy Ritual People Powered Winery before (I know, who comes up with these names?), but somehow I found out that Jess Cornelius, the singer-songwriter from Teeth & Tongue was performing there on Saturday night. Not only that, but it was free entry. So with my wife needing a break from her academic studies and me at a loose end with football season still a week away, we decided to have a date night and head out. While most of Melbourne was at Etihad Stadium to see Adele, we thought this was more our style, plus a few hundred dollars less expensive.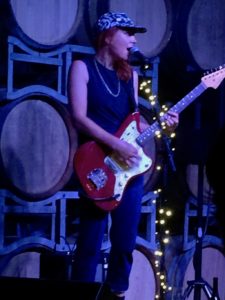 A winery on Lygon Street Brunswick seems a little fanciful to me – for a start, where are the vines – but what do I know about viticulture or any of the other dark arts of hipsterism practiced in Brunswick. Essentially it is a large converted factory with a serving area and trestle tables with bench seating. The tiled floor and vaulted roof with no ceiling meant that the sound was echoey and loud, and that was before Jess Cornelius even took the stage. There was lots of chatter and the recorded music was so echoey I couldn't even pick what was playing.
The website recommended having dinner before the show, and even though we ignored this advice, it didn't look like they even served dinner. Just the sort of overpriced 'grazing plates' peculiar to wineries. People seemed to be getting pizzas delivered from nearby Lygon Street restaurants or ordering in Uber Eats. There was one couple seated at the bar with little racks of test tubes set up with thimbles-worth of different wines that they periodically tipped into a glass, went through the swirling, sniffing routine before knocking it back in one tilt. Presumably it was some sort of wine tasting degustation wankery. I ordered a Pale Ale for me and a Riesling for Angela and we joined a solitary woman seated at one of the long communal tables.
Missing Teeth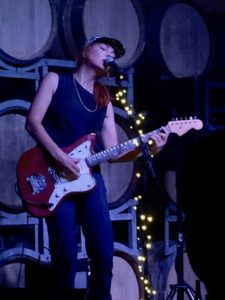 The small stage set up against a backdrop of wine barrels was festooned with fairy lights that wound like vines up the microphone stand. Not quite the wedding cake spectacular laser lighting, giant LED screen, firework exploding extravaganzas of Adele's staging, but then this was a free gig and there were at least 75,000 fewer people scattered about the Noisy Ritual than there were straining their eyesight to see Adele at Etihad. Plus, and I'm probably alone in thinking this, I prefer Jess Cornelius' voice to Adele's. But then, two of my favourite singers are Bob Dylan and Mark E Smith, so I'm certainly not casting myself as an expert in such matters.
Jess Cornelius was playing solo with electric guitar; so in other words we had the tongue, but no teeth. Rather than play songs from her Teeth & Tongue repertoire, however, she used the show to road test new material. Very new. Despite releasing an album with Teeth & Tongue just six months previously, the set consisted almost entirely of new songs. Only one song, Give Up On Your Health, the title track of the band's most recent album, made the setlist here.
The venue wasn't set up for great sound clarity, but generally people stopped yakking and listened to her. The new songs were mid paced and owed more to the style of the Grids album, rather than the disco pop sheen of their most recent album. But it is hard to know what musical wrapping she and the band will give these songs once she gets into the studio. They were lyrically dense and like her existing material, not necessarily verse, chorus verse in structure.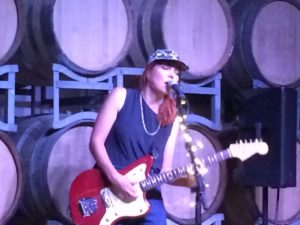 Early on she didn't announce titles, so I can't provide an accurate setlist, but I particularly liked the second and third songs she played; one had something to do with having a room of her own while the other was about banging her head against the wall. Whether it was the wall in the room of her own I couldn't say. The acoustics in the room were not perfect, making it difficult to decipher individual lyrical phrases, so the third song might have been about having bangers and mash in the hall for I could tell. But I liked it anyway.
She played Jealousy, a slow, brooding lament that I'd heard at a previous show. Habits she introduced as something she wrote after listening to Sharon Van Etten and she finished with a song called Love and Low Self Esteem in which her voice threatened to bring down the rafters that sat above us.
A winery was perhaps a fitting venue after all, for hearing these new songs in their raw state was a little like a wine tasting – a little sample before hearing the final recorded version.
Such was the reception at the end that she put down her guitar and picked it straight up again to play us another new song as an encore. Bad Decisions it was called. I was spotting a lyrical theme and was beginning to worry about Jess. She did warn us that she didn't really have any chirpy, happy songs, but even so, I'd picked up songs about banging her head against a wall, wanting to be alone, jealousy, bad habits, giving up on health, low self-esteem and making bad decisions. She was starting to sound like Morrissey. Perhaps an intervention was necessary. Should I have reached out to her in the vestibule of the unisex toilets, notwithstanding that I hadn't washed my hands? On the other hand, a happy Jess Cornelius might not make such beguiling music, so in the interests of music, I'll just leave well enough alone.
Setlist
?
?
Banging my head against the wall (?)
I Wanna Be Alone (?)
Jealousy (?)
?
Habits
Give Up On Your Health
Love and Low Self Esteem
Bad Decisions
Teeth & Tongue at Parliament House – Nov 2016
Teeth & Tongue – Polyester Records Sept 2016