Hugo Race Fatalists
Hugo Race Fatalists
Merri Creek Tavern, Northcote
Saturday 26 July 2019
$20
TRUE SPIRIT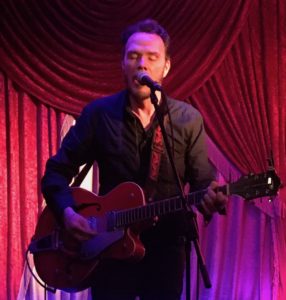 Of the various musical incarnations of Hugo Race, my favourite is Hugo Race Fatalists. Their new album, Taken by the Dream, dives deeper into the dark, textural cinematic terrain that defines the band's sound and is a worthy follow-up to the masterful 24 Hours to Nowhere.
Admittedly the sound of the Fatalists is not that far removed from that of True Spirit, Dirtmusic or any of Race's other musical vehicles. They all share traces of hazy laid-back blues, electronic ambience, widescreen noir atmospherics and the distinctive whispering purr of Race's baritone. Perhaps it's just the name Fatalists I like, but either way I was pleased that the new album had brought about another bout of shows, starting with this one at the Merri Creek Tavern.
In a fair world Race would be a returning hero playing to a packed room of nodding new wave afficianados and music buffs. A Melbourne boy who began his career fronting the Birthday Party-esque Plays With Marionettes, formed The Wreckery with Nick Barker and then turned up playing guitar alongside Blixa Bargeld in the first incarnation of the Bad Seeds, Race has an impressive post-punk pedigree. So it was a little disappointing to see him playing to just a handful of people at a tiny bar in Northcote for the first night of the tour.
True, it was a cold, wet night that kept most sensible people indoors. Plus, he was up against Richmond versus Collingwood in a blockbuster game at the G, and Jess Ribeiro's album launch up the road at the Northcote Social Club accounted for a good portion of the northern suburbs indie crowd. But even so, he is in a rich vein of form at the moment and deserves a bigger audience than just me, my friend Judy, and a dozen others.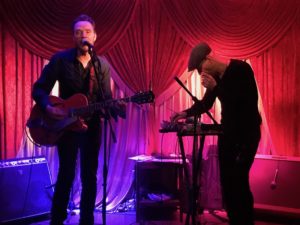 In past five years alone, Race has released two Fatalists albums, 24 Hours to Nowhere and Taken By the Dream, an album, The Spirit, and an EP, False Idols, with True Spirit, Bu Bir Ruya with Dirtmusic, John Lee Hooker's World Today with Michaelangelo Russo, a live recording with Pure Phase Ensemble, Longdistance Operators with Belgian violinist Geraldine Graindorge and Gemini 4, and album of psychedelic electronica instrumentals. That's nine albums under seven different monikers. Plus, he has penned a book. And that's just the ones I'm aware of – possibly there are others. And all of them are exceptional.
Despite this rich and varied discography, just 15 people spilled into the back room of the Merri Creek Tavern for the show. This gig gave new meaning to the term intimate show. And not just because of the small audience, because the bandroom probably only holds about 30 people comfortably.
Likewise the performance space. Race was playing this gig as a duo with Michaelangelo Russo, not the full Fatalists line-up, which was fortunate because there was barely room for two people on the stage.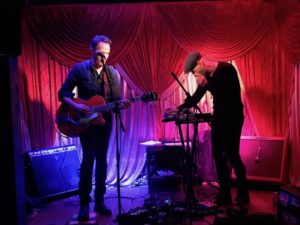 Among the audience was fashion designer and occasional lyrical collaborator for Hugo Race, Alannah Hill. The Jenny Kee for goth girls, Alannah was pretty easy to spot in the small audience with her stylish couture, immaculate make-up and jet black hair with feathered feature. She was easily the most glamorous person in the room, and quite possibly the most glamorous person to ever step foot in the Merri Creek Tavern.
Some fuzzy feedback emanating from the band room was the sign for those of us scattered in the bar to wander through to the back where Race and Russo were set up on the small stage. Race was picking out a bluesy refrain on guitar while Russo leaned into his harmonica and twiddled with his various effects knobs.
Judy and I took up a spot at a table front and centre and the rest of the audience, demonstrating proper Melbourne reserve, refrained from standing in front of us.
They opened with Hobo Blues from their 2017 reworking of John Lee Hooker songs and followed with Love Blues from the same album. Russo cut a svelte silhouette as he created an ambient and atmospheric soundscape with his harmonica, loops and treated electronic effects. Race meanwhile played guitar, crooned in a husky baritone and set the percussive tempo by tapping his foot on an electronic beat box.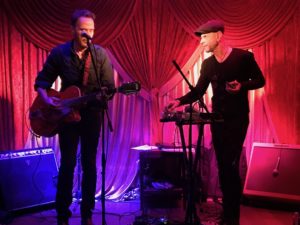 From there the set list veered across Race's recent career, a couple of tracks from 24 Hours to Nowhere (Beautiful Mess, No God in the Sky), Altered State from the new album, a song from True Spirit (Elevate My Love) and a couple of covers, including the traditional blues track Poor Boy Long Ways From Home and Springsteen's I'm on Fire.
If the duo were bothered by the sparse attendance, they didn't let it affect their performance which was intense and thoughtful. Only when Race broke a string during Heaven and Hell did they make the executive decision to take a break, given that among the small number it was unlikely any of us were guitar techs.
They opened the second set with MC5's The Motor City's Burning before playing The Power of You and I, which was probably the highlight of the night.
It would be good to see the full Fatalists line up perform, but the rendition of the songs didn't suffer from there being only two people on stage. Race's delivery was passionate and intense while Russo filled out the sound with thoughtful atmospherics, electronic flourishes and sustained notes from his harmonica.
We may have been small in number, but our enthusiasm was sufficient to coax the duo back on stage to play Ballad of Easy Rider as an encore.
In whatever form Hugo Race chooses to perform, he brings passion and true spirit and hopefully the audience will swell by the time the tour swings back through Melbourne in August.   
Setlist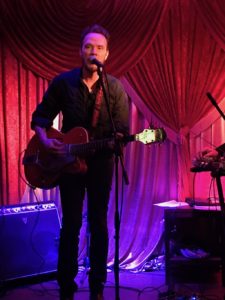 Hobo Blues
Love Blues
Beautiful Mess
Altered State
Poor Boy Long Ways From Home
No God in the Sky
Elevate My Love
I'm on Fire
Heaven and Hell
——-
The Motor City's Burning
The Power of You and I
Bow and Arrow
Fool's Gold
Magnetic Girl
Gonna Get High
When My First Wife Left Me
——-
Ballad of Easy Rider
Hugo Race and Michaelangelo Russo – The Spotted Mallard, 27 January 2018