Bruce Springsteen
Bruce Springsteen
Jet
Diesel
AAMI Park
Saturday 4 February 2017
$143
TRAMPS LIKE US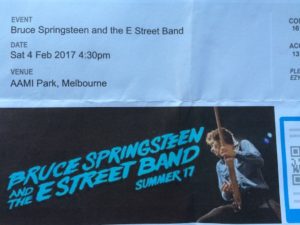 In the annals of rock and roll history, Bruce Springsteen looms very large. However, for Kath, John and I seated at the northern end of AAMI Park on Saturday night, he was but a tiny humanoid dot in the distance. We were seated a long way from the stage for this, his second Melbourne show, but at least we were quite close to the bar. That was one compensating factor, and it being a very hot night we did manage to find plenty to enjoy.
Not least the music, for no matter how remote you are from the stage, Springsteen puts on a show that reaches the outer limits of whatever stadium, field or concert hall he is playing. Or even office, for just two weeks previous he had performed a private concert at The White House for Barack Obama and his staff. It's probably one of the rare occasions when Springsteen is performing that he is not the most important person in the room. It's fair to say, however, that those seated alongside the outgoing President on that night shared a more intimate moment with The Boss than did we in a soccer stadium with 25,000 others, but after four or five Peronis, or Sav Blancs in Kath's case, it ceased to really matter.
After decades of virtually ignoring Australia, this is Springsteen's third tour in five years. It's proof the government are right when they assert that people are rorting the 457 Visa rules. Apart from anything else, Bruce must pay a fortune in backpacker tax. You might even suspect him of having a lover here if his wife wasn't a member of the E Street Band. But with tickets starting at $100 or so, the more likely explanation is that we are just a key plank of his superannuation plan.
This is the second tour that I have attended – I saw him perform at Hanging Rock in 2013, again in the company of Kath and John, both of whom are bigger Boss fans than me. In fact, Kath is something of a Springsteen obsessive and John has liked him from the late 70s and early 80s. I joined them at the Hanging Rock show just to see him live and it was so impressive we all decided to back up a second time.
Trumps Like Us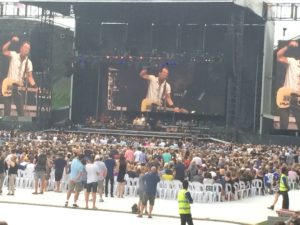 We missed Diesel but arrived in time to hear Jet to play Are You Gonna Be My Girl.
As Bruce has been making his way around Australia ahead of his Melbourne shows, reports have filtered through of the various on-stage comments and critiques he has been making about the Trump administration. After Trump announced his travel ban from seven Muslim countries, Springsteen announced that he and the E Street Band stood before the audience as embarrassed Americans. At his first Melbourne show two nights previous he opened with a hastily rehearsed cover of The Orlons' Don't Hang Up, referencing the infamous phone call during the week between Donald Trump and Malcolm Turnbull.
Our show, however, was free of any political commentary, unless of course you count his opening song, American Land, a jaunty Irish folk jig that sounds like a Pogues cover and recounts the contribution to America of waves of immigrants over the centuries. That probably conveyed all he needed to say on the topic, and more eloquently than any lecture. Based on the evidence of the giant screens flanking the stage, it also got the people near the stage dancing. Most of us up the back remained in our seats. If this was to be a three-hour show we were going to pace ourselves.
It was still light when Springsteen came on which was a little disconcerting, largely because our seats were at the opposite end of the stadium to the stage and there was a good 50 metres of sparsely populated space between us and the people seated on the arena. The expanse of white matting protecting the soccer pitch gave the whole thing something of a Trump inauguration feel and simply served to accentuate how far away we were from the stage.
All this empty space proved to be an excellent dancefloor for one couple who gave free rein to their expansive interpretive dance moves, some which seemed to involve imitations of aeroplanes taking off. They could have moved 50 metres closer, but preferred to stay up the back where they had enough room for their expansive routine. And they pretty much kept it up for the entire show.
Despite the empty spaces, there was still probably 25,000 people there, which is more than attend Melbourne City home games at the same venue, and possibly more than the Melbourne Rebels rugby team attract across an entire season.
Remote Rock
Springsteen followed American Land with a few more songs I that didn't know, Lonesome Day and My Love Will Not Let You Down. Of his 20 or so albums I'm only familiar with a few of them, so there was always going to be plenty of songs with which I wasn't familiar, I just wasn't expecting it to be the first three songs. It wasn't until Out in the Street ushered in a set of songs from The River – ostensibly the basis of the tour – that I had a songhold into the gig.
Like all great performers however, it doesn't matter how well you know the material because Springsteen has such command of the songs and the stage that your familiarity with the setlist doesn't really hinder your enjoyment. Unlike the people who pushed past us every three songs or so to go the bar; that became quiet annoying.
As anyone who has been to a Springsteen show will know, the audience play an active role in determining the setlist with homemade signs that they hold up hoping the Boss will notice. Sherry Darling and This Hard Land came from sign requests, with Springsteen holding up the signs for the cameras so that we, and perhaps more importantly, the E Street Band, knew what was coming.
Another woman with a sign saying she wanted to dance with Mighty Max was invited on stage to do so. She dutifully boogied on the platform next to drummer Max Weinberg during Sherry Darling. From where we were sitting I'd have needed to hoist a billboard if I'd wanted The Boss to see it.
Springsteen has a good rapport with his audience and gets in amongst them, high-fiving and shaking hands. Of course we could only see all of this courtesy of the large screens that offered us a close-up view. Kath commented that Bruce was looking more like Robert De Niro every day, while Little Stevie with his bandanna resembled an extra from Pirates of the Caribbean.
Sax player Jack Clemons, the nephew of original sax player, the late Clarence Clemons, was a crowd favourite and managed to shoe-horn a sax solo into every song. I realise it is verging on heresy to say so, but to me it sounded like pretty much the same solo each time. Still you couldn't fault his energy or the general cool dude vibe he exuded.
Likewise, the rest of the band; who each took their moment to shine in a solo slot. As a unit they were as tight as you'd expect for a band who have been playing three hour sets regularly for 30 years. I thought the sound was a little too high-end, but at least they avoided the normal stadium pitfall of echoey drums ricocheting off the grandstand.
New York Serenade was performed with a string section while Waitin' on a Sunny Day required a couple of false starts before it got going, but included a young girl from the audience sharing the vocals with Bruce. Impressively she even knew some of them, for I wouldn't have picked it as a time worn classic that your average 12-year-old would know. Nor is it a song I would necessarily add to a Springsteen playlist. However, it was followed by the first song I'd include, Because the Night and concluded the main set with Badlands and Thunder Road, which had Springsteen been born in Melbourne he might have named  Punt Road.
To emphasise how far away we were, I couldn't really tell if that was the end of the set or not. Springsteen appeared to be saying goodnight by holding his guitar aloft and shaking it. And while it looked like he left the stage, the band stayed put. There was very little delay before they launched into Born to Run, which reached the anthemic heights you'd expect. Even those of us up the back were dancing by then.
Dancing in the Light
Anachronistically perhaps, the house lights illuminated the whole stadium during Dancing in the Dark, which at least afforded us a good view of the couple dancing up the back. They were joined by several more people freestyling during this song, but even those in the seats were on their feet singing along.
Several people got their Courtney Cox moment, with an audience member assigned to each member of the E Street Band. Bruce chose for himself a girl holding up a sign that read, "My Dad Said He'd Give Me $1000 If I Dance With The Boss." John wondered if this was entirely in keeping with Springsteen's proletariat values, but given the girl must have paid at least $500 for her ticket near the front, perhaps she deserved some recompense. The roadies strapped a guitar on her (though I doubt it was plugged in) and she played along standing back to back with Bruce.
As cricket, netball, tennis and other sports seek out ways to abbreviate the duration of their events, Springsteen continues to play extended three-hour sets. With people looking forward to Lady Gaga's half-time show at the Superbowl coming up in a couple of days, I wondered if Bruce had ever played the Superbowl, and how he would manage to condense his show to just 15 minutes.
The set hit the three-hour mark as the band continued. Tenth Avenue Freeze Out might have ended things on a natural high, but the band kept the upbeat mood going with a cover of the Isley Brothers', or as we know it, Johnny O'Keefe's Shout. There was another touch of pantomime when they wrapped Bruce in a boxing cape with The Boss emblazoned across the back in large diamente inscription and mock helped him from the stage. But of course he threw off his cape and returned to rip through The Beatles' classic, Twist and Shout, that concluded with fireworks exploding over the grandstand.
I'd have rather he ended with a couple of his own songs, but he, after all, is the Boss, so who am I to question his decisions.
Check out brucespringsteen.net for the official photos from this gig. Curiously the setlist on this site lists Spirit in the Night instead of Hungry Heart, but he definitely played Hungry Heart.
Setlist
American Land
Lonesome Day
My Love Will Not Let You Down
Out in the Street
Sherry Darling
Hungry Heart
Glory Days
This Hard Land
New York City Serenade
Prove It All Night
Trapped
Youngstown
Cover Me
Death to My Hometown
My City of Ruins
Cadillac Ranch
I'm Goin' Down
Waitin' on a Sunny Day
Because the Night
Badlands
Thunder Road
Born to Run
Seven Nights to Rock
Dancing in the Dark
Tenth Avenue Freeze-Out
Shout
Twist and Shout