Ball Park Music, The Jungle Giants
Ball Park Music
The Jungle Giants
Zoo Twilights, Royal Melbourne Zoo, Parkville
Friday 10 February 2017
$154 family ticket
RUG SITTERS
When I hear the term Ball Park Music, I tend to think of The Clash or The Beatles at Shea Stadium, rather than, say a fey indie band from Brisbane.
Not that I've seen either The Clash, The Beatles or indeed, even a baseball team play at a baseball stadium, so I don't speak from a position of authority on such matters. And of course it's unfair to compare Australian indie act and Triple J favourite Ball Park Music with either The Clash or The Beatles, but they've put out three albums now, so to adopt a baseball idiom, they've at least made it to first base.
Aside from one or two songs, I didn't really know much about Ball Park Music. One of those songs, Fence Sitter, featured on my sons' playlists with such repetitive frequency that what was at first a benign, if quite catchy ditty, soon became something from which I recoiled. The term 'earworm' might have been invented to describe its circular, circus-like keyboard motif. Which presumably was the point, but even when they wrote it I bet the band weren't factoring in the sheer number of times teenagers can play the same song over and over in a single short car journey.
The other song I know, Whipping Boy, is from their latest album. I prefer it to Fence Sitter, not necessarily because it's a better song, but simply because Oscar and Declan haven't singled it out for heavy rotation.
In any case, when they were announced on the Zoo Twilights bill along with The Jungle Giants as support, another band Oscar likes, we decided to buy a family ticket and head along.
I should point out that this was at some sacrifice, because it meant missing Camp Cope at the Tote and Sunnyboys at The Croxton. But such are the sacrifices you make to maintain family harmony. Of course secretly I relished the idea of a relaxed outdoors vibe and a nice early finish. Plus with my wife also attending I'd get a lift home. As it happened it was a hot day so lounging about outdoors on grass was infinitely preferable to being in the confined and uncomfortably sweaty interiors of a dark pub.
Oscar and Declan joined their friends and all the other young people up near the front for The Jungle Giants while Angela and I sat with the other parents a bit further back in the shade. It was all very relaxed. After all, nothing says rock and roll like a picnic rug, a cheeky Pinot and a selection of cheeses. And being an all ages show, the bulk of the crowd was under 18, so there wasn't even a queue for beer. Of course that may have been because they were selling Melbourne Bitter cans for $8.50.
If nothing else, The Jungle Giants bear a suitable moniker for a gig at the zoo, although you wonder if they'd be quite so boastful about their stature were they to come face to face with some of the actual jungle inhabitants resident in nearby enclosures.
Musically they dealt in sharp, jangly pop riffs with just enough fuzz around the edges to keep it interesting, courtesy of lead guitarist Cesira Aitken, who spent long periods of the gig kneeling on the floor coaxing feedback out of her pedals. The songs were strong and and frontman Sam Hales delivered them with power and confidence. They created a good vibe among the picnickers and incited a growing cluster of people to crowd around the front of the stage.
Stand Off
We were sitting with Richard and Jo, parents of Oscar's friend Olivia. Richard was better acquainted with Ball Park Music than I was, so he was able to keep me informed of the song titles and the odd snippet of information.
I don't know if it's because Ball Park Music are form Queensland, where fashion operates by entirely different rules to the rest of the known world, but it was a little unusual to see the lead singer of a rock band with his t-shirt tucked into his jeans – not this side of a boy band at least. However, Sam Cromack does have a little of the nerd thing going on. With his specs and his idiosyncratic songs, he's a bit like a young Elvis Costello, just without quite the same degree of venom. I don't mean that in a bad way, Costello is one of the great songwriters of the last 40 years and Cromack shows much of the same promise with his quirky, literate songs like She Only Loves Me When I'm There and Everything is Shit Except My Friendship With You. Indeed the annoying keyboard motif from Fence Sitter sounds like something composed by Steve Nieve from the Attractions.
They opened with a slow build of modulating feedback that developed into Feelings, the lead song off their latest album, Every Night the Same Dream. It made for a low key, but atmospheric opening until the keyboards burped into life and the song was away with its slightly chaotic, crashing rhythms. Great song. Then they immediately upped the ante with catchy crowd-favourite, She Only Loves Me When I'm There, inciting two youngsters just in front of us to stand up and dance. Fair enough, except that they remained standing for the next song, blocking the view of a whole wedge of grass sitters, including me.
Now I don't want to seem like a grumpy old grown up, (even though I am one), and I realise that this was a rock gig, so you know, you can't really complain about people dancing. However, it was a little exasperating that they chose to stand right there half way back, rather than down near the stage where there was a large throng of people standing and dancing who were not in anyone's way.
I realise that as teenagers they felt duty bound to be rude and inconsiderate; I wouldn't hope for anything less. However, this was Zoo Twilights, not Glastonbury or Altamont. Calls by some people around us for them to sit down only succeeded in eliciting the bird – from the girl of course, the guy didn't turn around. It was a stand-off. Well, sort of, I was still sitting. Obviously, I couldn't say anything, because as a 50 something they'd simply tell me to 'fuck off,' as they should.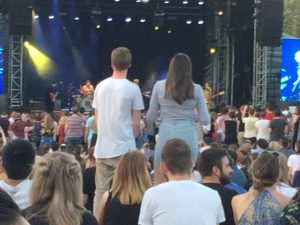 Happily, the bloke in front of me, younger with a somewhat more imposing physique went down to confront them on behalf of all of us. He pointed out that they would be in no one's way and closer to the band if they simply went and stood down the front, where everyone was standing and inconveniencing no one – well, not us anyway. He may have used spicier language, I couldn't tell, or he may have simply highlighted that an entire lawn's worth of old blokes were checking out the girl's arse as she danced. Whatever he said, it worked. When finally they relented, the man returned to his picnic rug to loud applause and cheers from the lounging Pinot sippers.
Righteous in victory, we were free to re-focus our attention on the band. Coming Down warmed up the crowd with its anthemic Coldplay-esque cadences, a mood they continued with the ballad, Leef.
I nodded along to Whipping Boy, hoping for more of the same, but was less taken by It's Nice To Be Alive, delivered here as an unaccompanied solo by Cromack. I wasn't familiar with this song, and may have suggested allowed that it wasn't their best, only to be informed by Richard that it was among their most popular songs. Apparently it is normally an up tempo pop nugget, so whatever I may have thought of this version, I admire that they rearranged it. Overhearing me, the guy in front – the hero from the Battle of the recalcitrant teenagers – told me to wait for Cocaine Lion. A classic he assured me.
Nihlist Party Anthems
At first I preferred the more ragged live sound of the The Jungle Giants, but Ball Park Music grew on me the further the show went and as night fell. The songs I enjoyed most were those from the new album, but the band paced their set well, mixing fast and slow, old and new, to keep the fans happy. There were the obvious hits – in most cases the ones with little profanities that probably made them popular on Triple J, like iFLY and It's Nice To Be Alive. Then there were the songs that were quite beguiling, Ever Since I Turned the Lights On and Nihlist Party Anthem – which apart from anything else, boasts one of the wittier titles in the Australian songbook.
More and more people were standing as the band blasted out Everything is Shit Except My Friendship With You followed by Fence Sitter, both of which prompted widespread dancing and singing. Whatever you say about Ball Park Music, you can't deny Cromack's skill as a songwriter, his melodic imperative, sharp social commentary and the band's smart arrangements. They ended the set with the musically adventurous Pariah, basically a long instrumental wig-out bookended by a melodramatic flourish in which Cromack pronounces himself a pariah.
Returning for an encore Cromack announced that this was their biggest headline audience to date and played what I think is a new, or at least unrecorded song, before performing Glass Jar as a duet with bassist Jennifer Boyce, who sang so beautifully I wondered why she didn't do more of it. The rest of the band returned to play Cocaine Lion, eliciting a wink in my direction from the guy in front.
The combination of Ball Park Music and The Jungle Giants worked well. They illustrated the depth and strength of the Australian music scene and sitting back on a picnic rug drinking Melbourne Bitter while listening to them was as fine a way as any to spend a balmy summer. And the gang down the front loved it. It was the sort of vibe that indeed made it 'nice to be alive.'
Setlist
Feelings
She Only Loves Me When I'm There
Alligator
Coming Down
Leef
Whipping Boy
Surrender
It's Nice To Be Alive
Literally Baby
Ever Since I Turned the Lights On
iFLY
Sad Rude Future Dude
Tripping the Light Fantastic
Nihilist Party Anthem
Everything is Shit Except My Friendship With You
Fence Sitter
Pariah
———
?
Glass Jar
Cocaine Lion
Neko Case at the Royal Melbourne Zoo – March  2014
Conor Oberst at the Corner Hotel and the Royal Melbourne Zoo – Feb 2015