Bryan Adams, Ellie Goulding, Chris Isaak
Bryan Adams, Ellie Goulding, Chris Isaak
MCG, AFL Grand Final
Saturday 1 October 2015
WICKED GAME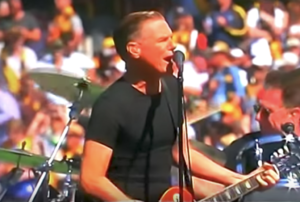 For the fourth consecutive year, my team the mighty Hawks were playing in the AFL Grand Final. By necessity, I was therefore hanging about in bars talking up the game and as such, missed parts of the pre and post-match entertainment.
I did see Chris Isaak, but in truth he was hard to miss, for even in a stadium of people wearing facepaint, coloured wigs, capes and costumes, his country and western rhinestone suit stood out. It was a bright sunny 30C + degree day and with the sun picking out the sparkling gems on his lapel, he created his own light show.
He and his band, Silverstone, played three songs: Great Balls of Fire, followed by his two big hits, Wicked Game and Baby Did a Bad Bad Thing. They sounded pretty good too. Isaak's voice crooned majestically and he finished with a goal umpire 'goal' signal, so he'd done his research.
The only problem was that with three acts on the bill this year, plus all the other pre-game palaver, he was on so early that there weren't that many people in their seats listening to him.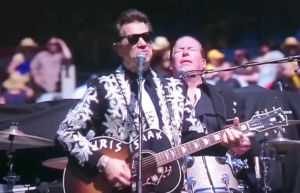 50 Shades of Brown and Gold
I largely missed Ellie Goulding's pre-match appearance, which was a shame, not just because she was wearing a tight white dress, but because her 'performance' became the talking point of the pre-game entertainment.
A technical hiccup as she was starting meant that she was left standing motionless with the microphone by her side as her voice began blaring out of the PA, leading people to accuse her of lip-synching.
The main accusations came from people watching on TV who perhaps aren't aware of the use of backing tracks and loops and other high-tech finessing that goes into a 'live' performance. Those at the ground could tell quite clearly that she was singing live, regardless of how much technical help she may have had, all of which is quite standard these days.
To me the issue was not so much whether she sang live, but that she sang Love Me Like You Do, the theme song for 50 Shades of Grey. I mean nothing sets the scene for a stirring sporting contest like a song about sado-masochism. If nothing else, it proved prescient, for once the game got underway Hawthorn were clearly the dominant partner with West Coast Eagles being our submissives.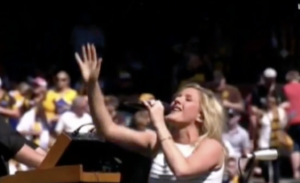 Can't Stop This Thing We Started
As a Ryan Adams fan, imagine my excitement when I learnt that he was playing at the Grand Final! Then imagine my disappointment when I discovered that it was Bryan Adams, not Ryan who would be performing in the middle of the MCG.
I wasn't expecting much from Bryan, but to be fair, he put on a pretty powerful show. Besides, he only had about 10 minutes so he had sufficient crowd-pleasing material and he's been around long enough to know how to work a room – even one as big as the G.
Adams had slicked back hair and the band were all in a uniform of tight black t-shirts and black pants. They all looked pretty sharp, despite the fact that they would have been sweltering in the already 30C+ temperature.
Their playing was also on point, with the big power chords of Run to You ripping through the crowd. When this song came out I thought he was singing "I'm gonna runter you" and I wondered what it might mean to 'runter' someone, and whether it would be sexually gratifying.
Having got the crowd on side with Run To You, Adams launched into his signature tune, Summer of 69. Even though I always thought this was a bit of a faux Springsteen song, or worse, faux Cougar-Mellencamp, there was no denying its power, for the crowd were getting into it and singing along. This may not seem particularly surprising to music fans, but Grand Final crowds are not generally known to lap up the music, and it takes a good performer to win us over.
I took it as a positive omen when he then sang Can't Stop this Thing We Started – not that I particularly like the song, but as the Hawks were aiming for three premierships in a row, I was happy to adopt it as our theme song for the weekend. It boded well too for the Hawks smashed it when they got their turn out on the arena.
Bryan Adams was unexpectedly good, proving that context, power chords and a kick-arse chorus are everything.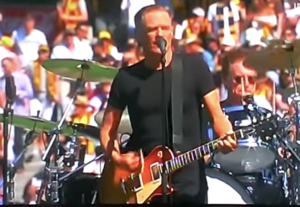 Pre-match setlist
Chris Isaak
Great Balls of Fire
Wicked Game
Baby Did a Bad Bad Thing
Ellie Goulding
Love Me Like You Do
Burn
Bryan Adams
Run To You
Summer of 69
Can't Stop This Thing We Started
Post-match
We're in Heaven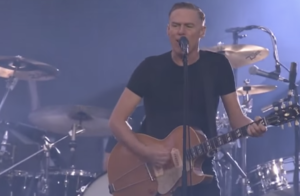 The post-match show has much more of a typical concert feel to it: it takes place in the dark, there's a light show, video effects and the crowd are up close to the stage. Even the sound is clearer. Where it differs however, is that no matter how big the band may be, the headliners are the premiership team who are presented to the crowd after the music. ABBA could reunite or Elvis be resurrected, and they'd still play second fiddle to the premiers. Especially when it is the Hawks who had just won their third consecutive premiership. Which is how I found myself sitting through a Bryan Adams and Ellie Goulding concert (I don't know what happened to Chris Isaak).
The order was reversed from the pre-match entertainment, so Adams was up first. I had met Angela, Oscar and Declan outside the ground and we were all still buzzing from the match when we took our seats a few rows back from the fence.
It was still twilight and very hot when Adams and band took the stage. There were a few Eagles fans still hanging back for the show – I suppose if you've come all the way from Western Australia, you may as well get a free concert out of it. On the whole, however, it was Hawks fans crowding near the stage, waving their scarves in the air and chanting for Cyril – our star forward who had been the best player on the ground.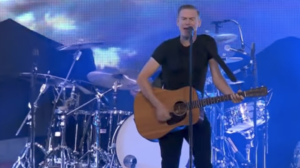 They opened with a rockabilly tinged number called You Belong to Me and followed by Somebody, more of a meat and potatoes rocker. Then Adams swapped to an acoustic guitar while the piano counted in the ballad Heaven. The crowd took over the vocals before Adams had a chance, so he just let them go for it. We were mainly Hawks fans after all, and after another rousing premiership win, we were indeed in heaven.
He played When You're Gone solo on his acoustic guitar. It wasn't a song I knew, but the bulk of the crowd was singing along loudly. Although he was ostensibly here to promote his new album and a forthcoming tour, he knows enough to not burden us with too much of the new stuff. He played new single Brand New Day, a typical Adams chugger, but only after he'd softened us up with Cuts Like a Knife, before finishing on The Only Thing That Looks Good On Me is You. Or perhaps a Hawthorn jumper I thought.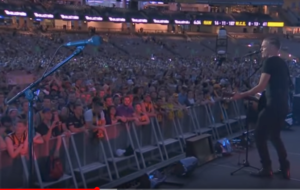 What Are We Waiting For?
It's difficult to imagine any other scenario where Bryan Adams and Ellie Goulding might appear on the same bill. Like the previous year's pairing of Tom Jones and Ed Sheeran, it seems Adams and Goulding were chosen to represent entirely different demographics and tastes.
In both cases it is unlikely that fans of one artist will have necessarily even heard of the other artist, but these lineups seem to be curated along the 'something for everyone' idea. More importantly, in the wake of Meatloaf's disastrous performance in 2011, two diverse acts offer some comfort that at least one of them will be okay.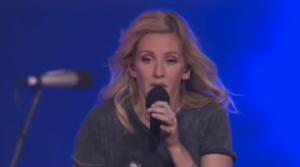 I was largely unfamiliar with Ellie Goulding, but I gathered that her audience generally seems to be at least 35 years my junior, and of a different gender, so my ignorance is not that surprising.
There seemed to be a long wait between Bryan Adams and Ellie Goulding and night had well and truly fallen before the band emerged. Perhaps Clarko's press conference was dragging on, or she'd been held up responding to Twitter trolls about her pre-match appearance. Eventually they came on and started up an upbeat synth number. The band was four musicians plus a couple of back-up singers who immediately started jumping up and down.
She was wearing leather pants and a t-shirt for her evening show. Her band likewise were in sheer black. If you measure popularity by the number of iPhones being held up, then Goulding is nearly as popular as Cyril Rioli.
"Hey guys what's up?" she said after the first song, and left a pause just long enough for a "Cyyrrriiilll" chant to start up. This became a feature of her set, with the "Cyyrrriill" chant gaining more momentum with each break.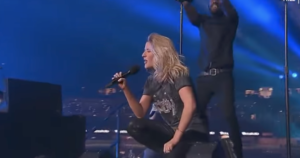 Our attention was distracted during I Need Your Love by the sight of a group of Hawks players scooting about the hallowed turf on a golf cart with someone, presumably a groundsman chasing after them. Unsurprisingly, it turned out that Brian Lake was at the wheel.
Goulding had obviously heard of the Meatloaf legend as she began to sing,"I would do anything for love…" before changing track to sing her hit Burn. Even I'd heard this one, but that may have been because she'd sung it pre-match. It concluded with her strapping on a guitar to bring it home.
I don't think she realised she was the support act to the mighty Hawks because she seemed mildly annoyed that we weren't jumping up and down and singing along more with more gusto. She seemed to be under some illusion that we were there to see her. Don't get me wrong, she was fine, but compared to Cyril Rioli's exploits during the afternoon, well, perhaps only Prince or Freddie Mercury could have distracted us from the main act.
I don't know if she watched the match, but as a simple ruse to win the crowd over, a simple "Go Hawks!" would have gone a long way.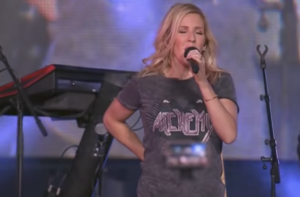 Her final song was Love Me Like You Do from the 50 Shades of Grey soundtrack that she had played before the game. The power ballad pivots on the line, "What are you waiting for?" which I would have thought was obvious – the mighty Hawks! Normally a song about S&M sung by a good looking blond wearing leather is the sort of thing that would get me excited, but on this occasion she was competing with something far more arousing …  Hawthorn's three-peat tteam.
Post-match setlist
Bryan Adams
You Belong to me
Somebody
Heaven
When You're Gone
Cuts Like a Knife
Brand New Day
The Only Thing That Looks Good on Me is You
Ellie Goulding
Outside
Anything Could Happen
I Need Your Love
Burn
Love Me Like You
2015 Grand Final: Hawthorn v West Coast Eagles
2014 AFL Grand Final entertainment: Tom Jones, Ed Sheeran
2016 AFL Grand Final entertainment: Sting, The Living End, Vance Joy