Camp Cope (2)
Camp Cope
Corner Hotel, Richmond
Friday 15 September 2017
$45
WEST SIDE STORIES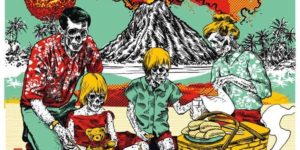 When I saw Camp Cope play live earlier this year, it was a free show on a sunny afternoon in the NGV backyard. There was a big contingent of fans on hand, but it was a relaxed afternoon with a lot of under 18s crammed near the stage and quite a few casual gallery goers lounging in the sun enjoying a glass of white wine or a cold Asahi while listening to the band.
This was in stark contrast to the weekend's gig at the Corner Hotel when the band came on at 11.30pm to a rowdy Saturday night crowd who had been in party mode for some time.
Going under the name Weekender Fest '17, the lineup featured Camp Cope as well as Jeff Rosenstock, Worriers, Loose Tooth and Hachiku. So the audience had been revving up with a steady flow of punk, pints and spirits leading up to the headline act. The mood in the room, it's fair to say, was positively exuberant, even before they had played a note.
Kath and I got there just as Jeff Rosenstock's unholy racket was coming to an end, so although we were considerably more advanced than the rest of the audience age-wise, we were lagging a long way behind in terms of inebriation.
Camp Fire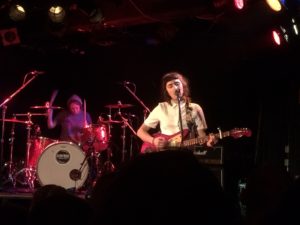 The curtains parted to reveal Georgia Maq dancing to the pop song that was blasting out of the P.A. Neither Kath nor I recognised the song, but it provoked a burst of general liveliness in the audience, so clearly we were about the only ones in the room who didn't.
Maq began by acknowledging the traditional custodians of the land on which they were playing and advocating for the 'Yes' vote in the same-sex marriage plebiscite. So far, so right on. She then introduced the first song as a new one that was dedicated to the LGBTIQ community, people who oppose the patriarchy, those who reject gender binaries and the usual roll-call of the new righteous – in other words, everyone who isn't a white, middle-aged, middle-class, heterosexual male. Me, in other words.
I tried not to take it personally. After all, she's right. We've had our turn and fucked things up, so it's time we stood aside – rather than say right in front of someone half our size, like the man-mountain who stood in front of Kath and I.
After the opening song, the exuberant mood lifted several notches when they burst into Done, the rollicking album opener. Jet Fuel Can't Melt Steel Beams generated a forest of gesticulating arms and a chorus of voices singing along with the refrain, "The only thing that stops a bad man with a gun, is a good man with a gun…"
"We still have to light the stove with a lighter!"
Georgia Maq has great stage presence. She is smart, articulate, genuine and a little bit foreboding.  If the Devil went down to Georgia Maq, as the song has it, I'd have my money on Maq. Her own songs are personal and honest, and contain hard kernels of the lived experience. Groups of people in the crowd faced each other and sang along earnestly to every word as if they were articulating some universal truth. Perhaps they were. At times Maq's amplified vocals were drowned out by the choir she inspired.
Other people were keen to get as close to her as possible. I let a group of girls push through in front of me. They were buoyant in mood as they danced and drank. One of them, wanting to become even more buoyant asked if she could get on my shoulders. She accepted without complaint my excuse that I had a sore back from a tumble down the stairs that morning, and proceeded to ask all the men around us.
Eventually as the band began Stove Lighter she was hoisted up. Others held up lighters in honour of the song while the entire audience shouted out the line, "we still have to light the stove with a lighter!" as if we were a football team belting out the club song after an inspiring win.
Keep Growing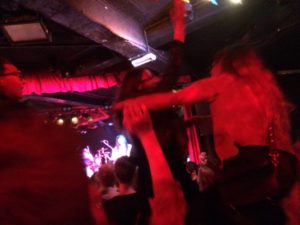 It was semi final night and the Cats had just defeated the Swans down the road at the G, but I'd be surprised if the crowd at the game made more noise than those of us in the Corner.
The final song, of course, was Lost: Season One, and the place went off, as they say. All four girls were hoisted high plus one or two others, so Kath and I couldn't see anything, but our lack of vision was compensated by the exhilaration of the music and the vibe of the audience. The place was bouncing. I wonder if anyone enjoyed season one of Lost as much as the Camp Cope audience like to sing about it.
In response to a strident demand for an encore, Georgia Maq came on and played a solo rendition of Charlie's Song. Talk about bringing down the mood. This is the saddest and most moving song in the Australian songbook since Two Little Boys.  Very beautiful and honest, but a heart wringer.
Some of its impact was lost on me because the guy behind me sang along, in what you might describe as an unrefined voice. Kath was so moved by Georgia's performance that she said she hadn't even heard him. But we both enjoyed watching the young couple in front of us. The girl sang up at her boyfriend while he looked adoringly into her eyes. They were pashing by the end of the song, virtually consummating their relationship in fact, at which point we had to look away.
Thankfully they didn't leave us on the downer of Charlie's Song and Kelly-Dawn Hellmrich and Sarah Thompson returned to the stage to play their latest release Footscray Station, another of their west side stories.
It was a big call by Kath and I to head out anywhere at 10.30pm, particularly on a cold, wet night, especially when we could have been lounging in our respective homes. It's not a call we'd make for just any band, but Camp Cope more than justified the effort. They are the real deal, and regardless of what they do from here, their debut album will remain a classic of Oz rock. You only had to look around at the devotion of the audience at this gig.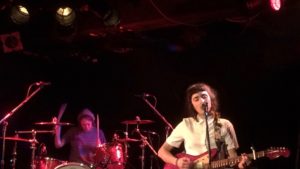 Setlist
? (new song)
Done
Flesh & Electricity
Jet Fuel Can't Melt Steel Beams
Trepidation
Keep Growing
West Side Story
Stove Lighter
Lost: Season One
————
Song For Charlie
Footscray Station