Camp Cope
Camp Cope
NGV Summer Sundays, Melbourne
Sunday 26 February 2017
Free!
CAMPING IT UP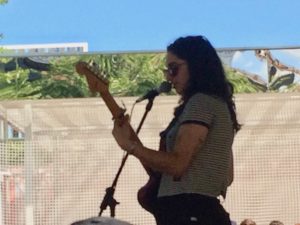 Last weekend I went to Whitten Oval to attend a women's football match between the Dogs and the Demons. During the week I began reading Ali Smith's new novel, Autumn. Then this weekend I backed up by seeing Warpaint on Friday night and Camp Cope on Sunday afternoon.
It may be a cliché that men of my age focus primarily on young women (although I think Ali Smith is somewhere near my own age), but what can I do about it if my three favourite pastimes, football, music and literature, are currently dominated by women?
Perhaps it is a sign that the patriarchy is finally breaking down, with Trump representing its last desperate gasp of life before it is forever extinguished?
Or is it just that as the female century gathers momentum I'm trying desperately to stay relevant by clambering aboard?
Whatever the case, I was at the NGV to see Melbourne's favourite rock 'n' roll women, Camp Cope, who were playing a free show in the gallery's backyard as part of the gallery's Summer Sundays series.
Camp Cope are a popular local act with an ever growing following from their excellent debut record. Their club shows sell out very quickly plus they have a large under-18 following, so this free all-ages show at the NGV was always going to be hugely popular.
After a few weeks featuring laid-back acoustic artists – Emma Russack, Gabrielle Cohen and Ali Barter – I wasn't entirely confident that the NGV team knew what they were letting themselves in for with this pack of loud unruly punks, particularly as it was an absolutely gorgeous blue-sky day.  I was concerned their bar staff weren't up to it.
I grabbed an Asahi and took a seat in the shade where I got chatting amiably to a woman about the Viktor and Rolph exhibition (we both liked it), La La Land (she loved it, me less so, though I was careful to not let on just how shit I thought it was), Hawthorn Football Club (we were both fans) and the band about to come on.
She had no idea who they were, which gave me a chance to indulge in some mansplaining. I told her that Camp Cope were about to make it big and that regardless of whether she liked them or not (her taste generally lent towards classical, opera and jazz she told me), one day she'd be able to boast that she saw them in the early days.
As we were chatting I noticed the beer queue growing ever longer and slower and I gave up all hope of getting another Asahi before the band started. At the same time the mosh-pit was forming in front of the stage, pushing the people on picnic rugs and bean-bags ever further back.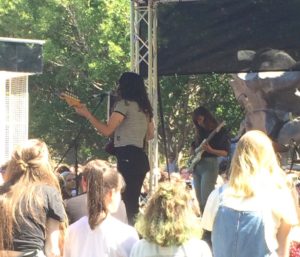 I wandered over to the side of the stage when the band came on and had an okay side-on view. It meant that the music wasn't particularly loud where I was, but to get a front on view I'd have to stand right at the back.
Camp Cope have just have one eight track album plus a single so there was never going to be much surprise about the setlist. Even so, it is a measure of the album's quality that they could open up with three of their best known songs, Done, Jet Fuel Can't Melt Steal Beams and Keep Growing, while leaving one or two big guns in the shed for the end.
Georgia Maq (McDonald) is one of those songwriters with the rare gift of being able to write smart slice of life songs in which the personal is transformed into the universal. Her lyrics are written in clear language that is at once plain and poetic. Her clear enunciation emphasises the emotional impact of her storytelling. She could make an act as banal as brushing your teeth sound profound.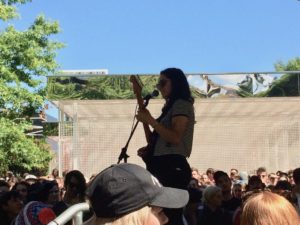 The NGV's backyard was crammed with people – from septuagenarians through to toddlers. A free gig on a sunny day can do that to your demographic.
From where I was standing on the side I had a good view of the teens in the front row looking up at Maq in awe-struck wonder and singing along with the sort of passion that suggested the tales of female empowerment, wayward boyfriends and visiting the hospital were being drawn from their own experience. Perhaps they were, but it is part of the power of Maq's lyrics and her impassioned delivery that the listener finds themselves right there on the song's frontline.
It is a raw sound with Maq's guitar providing the main melodic push while Kelly-Dawn Hellmrich's bass and Sarah 'Thomo' Thompson's drums added a basic, but punchy backdrop. The most extravagant Hellmirich got was to put on sunglasses with pink frames in the shape of love hearts, while drummer 'Thomo' stuck with her trademark woollen beanie, despite the hot day.
The simple soundtrack suits the material however, for the impact of the songs would possibly be lessened by too much fiddly virtuosity. Despite this simplicity, there were unusually long breaks between songs.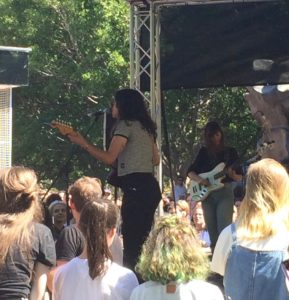 The band finished strongly with Stove Lighter and a rollicking run-through of Lost (Season 1), before Hellmrich and Thomo departed the stage, leaving McDonald alone to play the heart-wrenching Song For Charlie unaccompanied.
As she started to sing the guy next to me told me he has to stop his bike when that song comes on. I know what he means, it's a sad, touching song about (I presume) the death or illness of her father or another family member, but rather than the content of the song, surely the real danger comes from riding a bike while wearing headphones. 
Live the songs didn't carry quite the same emotional heft as on the record, but on such a beautiful day it was impossible to get too sad, even in abstract. Georgia Maq is one of the most significant voices in Australian music right now and it was good to hear it ring out so clearly.
At the end of the show the band sat on the steps of the stage as a long queue of people quickly formed in front of them to pose for selfies, get records signed, have a chat or just give them a hug.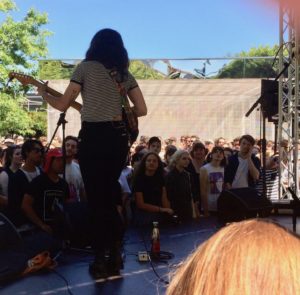 Setlist
Done
Jet Fuel Can't Melt Steal Beams
Keep Growing
West Side Story
Trepidation
Flesh and Electricity
Stove Lighter
Lost (Season 1)
Song For Charlie