Emma Russack
Emma Russack
The Ocean Party
The Fitzroy Pinnacle
Saturday 16 September
Free
IN HER PRIME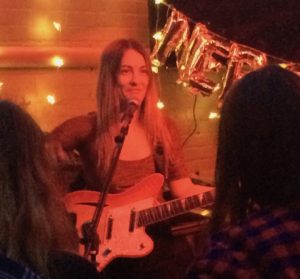 One of the pitfalls of ageing is the slow, steady depletion of one's stamina. This came to the fore for me on Saturday when the lineup of live music possibilities outstripped any chance I had of lasting the distance.
There was a free afternoon show by young singer-songwriter Emma Russack at The Fitzroy Pinnacle, as well as an evening show by Melbourne post-punk veteran Hugo Race playing his album of John Lee Hooker covers.
I set off for the afternoon show with all the best intentions of trying to see both, but family responsibilities, footy finals and general weariness conspired to prevent me from getting to Hugo Race's show later that night. Which is a shame because Hugo is in a rich vein of form on his recent recordings and I'd like to catch his live act.
The Fitzroy Pinnacle is a smart Victorian era building that occupies a triangle shaped isthmus of land on the corner of St Georges Road and Taplin Street in North Fitzroy. Despite the majestic exterior and its prominence on the landscape, it boasts one of the least prepossessing performance spaces in Melbourne – the corrugated tin roof carport in the pub's back yard. Even worse, it's not even the entire carport, for more than half of the space has been converted into a smoking area for the pub's patrons.
The Ocean Party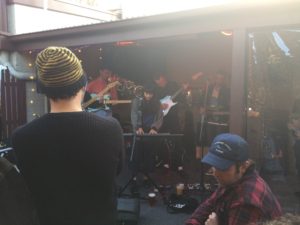 I was there in time to see the first act on the bill, The Ocean Party, a six-piece jangly rock band who favour short guitar straps, trousers with rolled up cuffs and ply a sort of Go Betweens type skewed pop.
It was quite crowded on stage, what with the various band members and their instruments, as well as the regular traffic of smokers crossing the raised platform to reach their smoking hutch. At times the band members had to point the necks of their guitars skywards while they played, not in some Ace Frealey axeman gesture, but simply so they could all fit into the small space.
I was standing just behind a shared table containing what must be the band's biggest fan. When one of the band members splayed out the various records and t-shirts available for purchase, he pushed back his seat and leapt past me to snaffle what he assured everyone around him was the last known vinyl copy of the album Soft Focus. As each of his friends joined him, or swung by, he proudly showed off his treasure and told of his brave quest to find it.
While I don't necessarily count this album as one of my must-haves, I recognised in his excitement a fellow collector and enthusiast, someone for whom having the album is nearly as important as ever actually listening to it.
Front and centre on keyboards was Ashley Bundang, who I recognised as the drummer from Totally Mild, a singer from another band, and all round Renaissance woman. Despite her positioning, there was no real focal point in the band with vocal duties being rotated between five of the six members.
Individually, none of them had a particularly outstanding voice, which might be why they rotated the vocals, yet when they sang in unison, they created almost Beach Boys-esque harmonies. Vocally they are a band for which the whole is worth more than the sum of its parts. Musically, however, I think their sound could benefit from having a little more oomph to it, especially considering there are six of them.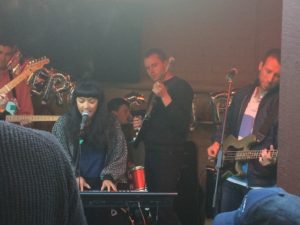 Emma Russack
It may seem a backhanded compliment to say that Emma Russack was better live than I thought she might be, but her songs are generally quite slow and she sings in a quiet deadpan manner, so I wasn't sure how this would translate in performance. Especially as the pub had grown quite rowdy by the time she came on.
The beer garden chatter was one thing, but with the carport stage situated at the bottom of a slight slope, the sightlines for short-a like me were also interrupted. Ironically, Emma Russack's opening song was called If You Could See Me Now. My sentiments exactly.
She was accompanied by a small band: Dylan Young on drums and Liam Halliwell on bass (he had played guitar and sax with The Ocean Party), with Emma playing electric guitar. Together they created a sparse but evocative sound that served the songs nicely, even if it didn't necessarily drown out the background chatter.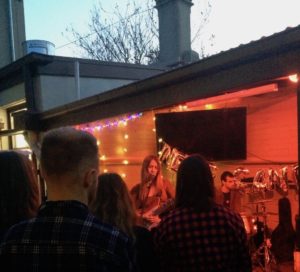 I particularly like her latest album, Permanent Vacation, for which this gig was nominally the launch, a point she emphasised when encouraging us to buy a copy after the show. She needed the money rather urgently apparently. She also tempted us by with the back cover, which shows a close-up of a bikini clad bottom. "That's my arse" she bragged. "It's all me."
Despite this gig being the album launch, Russack didn't allow this to necessarily define her setlist. She played Body Goals and Free Things from that album, but when someone shouted out for Narooma, a song about her home town, she was happy to oblige.
Likewise In Your Prime, an older song expressing dissatisfaction with a former lover, that she revealed was about the lead singer of a well-known Australian band from the 90s. It's not my gossip to peddle, so I won't say which one (it wasn't The Wiggles), but I did find myself puzzling over the maths of their respective ages and wondering how it was possible while still being legal. It wasn't quite Bill Wyman and his 13 year old bride, but it can't have been too different.
If she was guilty of over-sharing when introducing In Your Prime, it wasn't entirely atypical, for she was fond of a bit of a chat between songs. This could have been annoying, but she was fitting in with the relaxed vibe of an afternoon beer garden gig. Plus it was a free gig. Besides, she appeared to know most people in the audience, to the point that she berated one guy when she caught him on the phone during a song.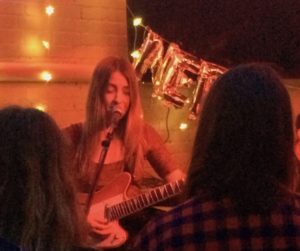 The chatter was becoming raucous at times, except weirdly during Free Things when everyone suddenly fell silent, only to start up immediately when the song ended. I notice that Emma is due to play one of the Hush shows shortly – this is a series of shows during which audience members are asked to refrain from talking – and I thought that after this gig at The Pinnacle, the Hush show will be a welcome corrective for her.
Despite the sparse, minimalist instrumentation, the band evoked different moods, bringing a jaunty swing to Permanent Vacation, a song about being on the dole, and an air of eeriness to Everybody Cares. She told us that this song was originally called Party until her record company pointed out that Aldous Harding was releasing an album by that title and made her change it. Evidently, and with some justification, they completely dismissed Iggy Pop's album of the same name. Either way, it seemed odd that the record party would care given that the song is also a play on Courtney Barnett's Nobody Cares if You're Not at the Party.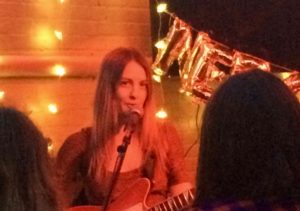 Judging by the yakking, not everybody at The Pinnacle cared if Emma Russack was at this particular party or not, but I bought a copy of the album on my way out. Not just because the back cover features a close-up of her bikini bottom either; I genuinely like the music. After standing for a good couple of hours though, I already knew I wasn't going to get to Hugo Race later that night. But at least Emma had put on a good show, and if nothing else I came away with some juicy indie rock gossip.
Setlist
If You Could See Me Now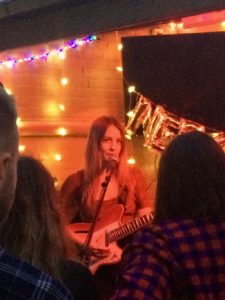 Body Goals
You Shouldn't
Free Things
Narooma
In Your Prime
Permanent Vacation
Everybody Cares
Best Love
Dream Man
Without Holding On
Cottesloe
I'm a Doggy