Camp Cope (3)
Camp Cope
Thornbury Theatre
Thursday 15 March 2018
$40
THE HEADLINERS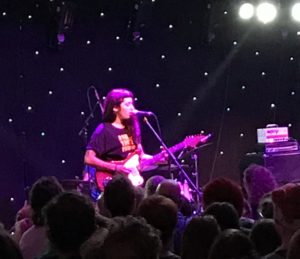 I've already done a couple of posts about Camp Cope (links below) so there's no need for me to go on too much about the indie darlings of Melbourne's music scene. However, in a month dominated by international acts coming to town (The National, Perfume Genius, Jason Isbell, BRMC, Angel Olsen, Lana Del Rey – to say nothing of Bruno Mars and Ed Sheeran), it's important to put on record that the local scene is still going strong. And that is partly due to bands like Camp Cope.
Fiona and I were at the Thornbury Theatre for the launch of the band's second album, How to Socialise and Make Friends. This was billed as the second album launch show; the first of which was taking place the following night. If that wasn't already confusing enough, they closed their set with a song called The Opener. Clearly Camp Cope live in some sort of backwards or opposite world.
I've seen Camp Cope play live a few times now and each experience has been quite different. The first time I saw them was a relaxed and sunny Sunday afternoon in the garden behind NGV. As a rare all ages show (and free), it was largely populated by teenagers plus a few old NGV members who turn up to anything at the gallery.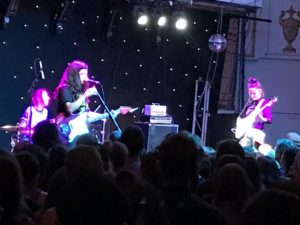 In contrast, the second time I saw them was a wild, raucous Saturday night show at the Corner Hotel that was loud, dynamic and notable for licentious and drunken crowd behaviour. In other words, one of the gigs of the year.
This one fell somewhere in between which was partly down to the venue. The Thornbury Thetare is a large wedding reception room, replete with tacky decor and gaudy gold trim leaf. It's a cavernous space and the sound got a bit lost in the plush carpet and expansive interior, except Kelly-Dawn Hellmrich's bass, which was very high in the mix. Kelly had her own fan club there on the night, with a section of the crowd chanting her name between songs.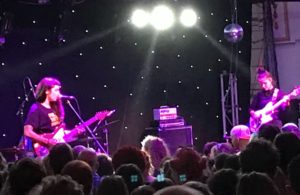 We enjoyed the show though and the venue contributed to the nice relaxed vibe. It wasn't too squashed, there was no pushing and shoving. Plus it was a school night, so it wasn't too late and people generally behaved with courtesy and respect. I know, not very rock and roll right? I blame the band's stance on equality and respect – it has resulted in an audience largely made up of polite, civilised, well-behaved people. Where did they go so wrong?
Like a lot of bands before them, Camp Cope's second album isn't quite as dynamic or urgent as their debut, at least on first listen, but it still has some fine moments and most of these were aired during the show. In keeping with the name of the album, when they took the stage I was still in the foyer socialising and making friends, so I actually missed their opening song, which I think was the aforementioned title track.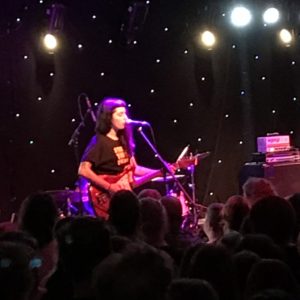 I think I heard Georgia Maq announce that she had tonsilitis, laryngitis or some such voice debilitating ailment. Not that this prevented her from belting out the songs in her trademark, heady combination of raw energy, raw honesty and high fringe.
They played just over half of their new album plus a few crowd favourites from their debut, eschewing the slow songs in favour of the livlier, up tempo numbers. Jet Fuel Can't Melt Steel Beams had the requisite oomph. Plus it's refrain of "the only thing that stops a bad man with a gun is a good man with a gun" carried extra resonance in light of President Trump using that very phrase when he outlined his insane plan to arm school teachers.
New song UFO Lighter led into Stove Lighter that came with its customary impassioned, crowd sing-a-long line, "We still have to light the stove with a lighter," which was strangely moving given its somewhat prosaic content.
They ended the set with a rousing version of Lost (Season One) and new crowd favourite, The Opener. This song, you may or may not be surprised to learn, is not about Cameron Bancroft's position in the Australian batting lineup, but about the condescending mistreatment and blatant sexism against women in the music industry. It's the best sort of protest song, a rousing call to arms, a 'fuck you' to the evil enemy ('straight cis-men', whatever they are) and a killer riff. Plus, it includes a shout out to bassist Kelly, which gave her fan club an extra reason to cheer.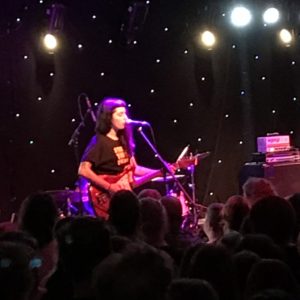 With two sold out nights at the Thornbury Theatre, I wouldn't want to be the next promoter to tell Camp Cope to rein in their ambitions. They have long ago moved from 'openers' to headliners.
Two albums in and they are not only building a library of great songs, but also building a reputation as a ripping live act, spearheading a new movement of women in rock, and even changing behaviours of people at rock shows . If only the rest of us could boast as much.
Setlist
How to Socialise and Make Friends
Keep Growing
Jet Fuel Can't Melt Steel Beams
The Face of God
Done
Anna
UFO Lighter
Stove Lighter
Lost (Season One)
The Opener
Camp Cope at the NGV – 26 February 2017