Ed Kuepper
Ed Kuepper
Howler, Brunswick
Saturday 14 January 2017
$35
THE FAMOUS MR ED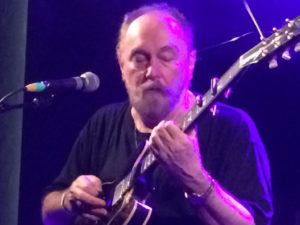 "Mr Ed will never speak unless he has something to say," or so goes the line in the theme song for Mr Ed, the 1960s American TV show about a talking horse. This line was also applicable to namesake Ed Kuepper, founding member of The Saints, The Laughing Clowns and creator of dozens of solo albums since 1985, for his stage persona has long been marked by a singular, almost perverse, lack of loquaciousness. He might announce the occasional song title or throw out a cursory 'thank you' every so often, but that was about all you could expect.
So what to make of the new chatty, urbane Ed who played at Howler on Saturday night and exhibited signs of good humour and even verbosity. The occasion was a 'By Request' show, with Ed on guitar and long-time associate Mark Dawson on drums. Ed was on stage for close to two hours and spent as much of that time chatting as he did playing. To the point that my brother Graeme reminisced fondly about the days when Ed said nothing and just played the songs.
Know Your Product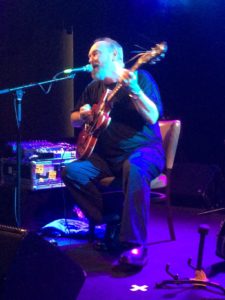 Personally I prefer the new Ed, although I'm not sure he has entirely embraced the concept of the 'request' show in quite the spirit the name suggests. Other artists who have done this sort of thing have used social media to invite fans to submit their requests in advance. At Springsteen concerts the tradition is to scrawl your song title on a large piece of cardboard and hold it up hoping The Boss will notice. Bowie once famously conducted a poll to find out which song the fans most wanted to hear at a forthcoming London concert. Subverting the process, the NME mounted a campaign to get The Laughing Gnome voted in at no.1. They succeeded, but Bowie still didn't play it.
Ed adopted a similar approach. Audience members yelled out song titles that Ed would consider for a moment and then decline to play, sometimes for good reason, such as it being impossible without a trumpet player, or he simply couldn't remember it, but more often than not because he simply didn't feel like it. In some instances he related a snippet about the history of the song, often with dry humour and a wry viewpoint, and then proceeded not to play it.
My request for Theme For Mad Flies Mad Flies was summarily dismissed, presumably because it requires sax, trumpet and double bass to capture the true essence of the song, although Ed didn't elaborate beyond emitting a weary groan. Fortunately the beaded chap next to me piped up with what would have been my next request, Collapse Board and the show was away, with Ed adding the caveat that this song's distinction is to have once been voted the most depressing Australian song of the 1980s – not a bad achievement given that was the era that gave us Nick Cave and Dead Can Dance.
After the  fifth request for The Way I Made You Feel and I'm Stranded, Ed announced that he would play 'the hits' towards the end of the show, explaining that he didn't want to peak too early and then spend the last hour of the show playing obscurities. Fair enough, although he never got around to playing either song. In the case of I'm Stranded it was because he claimed not to know the words, although he did elaborate on the song's unusual chord structure. In the case of The Way I Made you Feel, I think he just forgot.
Mr Eddich-Schmeddich Comes to Town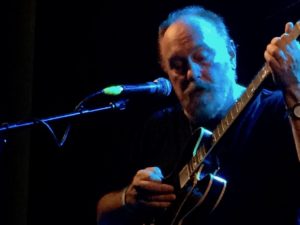 I ran into a former work colleague at the show, who was there with her partner. She had never heard of Ed Kuepper, or even The Saints, so I didn't bother bringing up Laughing Clowns. Her partner, she assured me, was a big fan, thus explaining her otherwise inexplicable presence at an Ed Kuepper request show.
Of all the bands and balladeers, guitarists and goth-rockers, tenors and troubadours, I've seen over the years, Ed Kuepper and Nick Cave have featured more than anyone else. I never saw the original Saints, but I did see pretty much every Laughing Clowns, Ed Kuepper and The Aints performance in Melbourne from 1981 through to the early 90s. Ed was playing quite a lot around the time I met my wife, who has complained over the years about the number of times I made her go and see him. Just like the work colleague I ran into really – it seems Ed's demographic consists, at least in part, of women who are there against their better judgement.
However, I haven't seen him perform a full show for some time. I saw him play a guest spot at a Rowland S Howard tribute show in 2014, but otherwise the last time I saw him perform was a brief Laughing Clowns reunion show in 2009 or thereabouts, as part of the Melbourne Jazz festival. He has played in Melbourne quite a bit in the interim, but I seem to have always had a conflicting commitment. Not necessarily a compelling one – the last time he played I was at a debutante ball.
In any case, I was glad to be back in Ed's court.
I Just Don't Know What I Want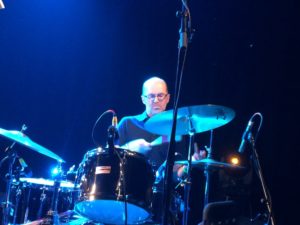 Ed was seated for the duration of the show and alternated between two guitars. He had a bank of effects peddles by his side with which he would occasional fiddle. The sound was good and the mix was excellent, especially given that Graeme and I were standing right in front of Mark Dawson's drum kit, and yet they never became intrusive. This was partly to do with Dawson's expert playing and subtle variations.
It's Lunacy and Car Headlights were among the early highlights of the show, however you couldn't help but feel that Ed was being somewhat selective with his hearing. It became clear that his MO was to just field various requests until he heard something he actually felt like playing. That's how he came to play Little Fiddle and Not a Soul Around.
There were shout outs that he simply ignored, Swing For the Crime, Everything That Flies, Honey Steels Gold, King of Vice and I Just Don't Know What I Want, which when you think about it, is something of an ironic title to be shouting out at a request show.
Ed may mean it when he sings that 'everything I've got belongs to you,' but he's still a bit picky about which bits of his back catalogue he'll actually give us. Explaining his reticence to play one particular song, he joked that when he plays a request, he never plays that song again. As individuals we had a responsibility to be judicious in our shout-outs. Even if this were true, if you factor in his 50 something albums, including alternative versions of particular songs, he would still have enough material for a 30 or 40 date tour.
One Saints song he did agree to play was Messing With The Kid, which he told us was one of the first songs the band performed way back in 1973. The person who requested Pavane was given a tick for requesting a song off the new album, although Kuepper saved the performance of that song until later in the show. The woman who yelled out for "La de Dah" was gently mocked for getting the title wrong, but he played the song anyway, while the blokes near me who repeatedly yelled out in thick northern European accents for Closer were routinely ignored. I couldn't work out whether Ed couldn't understand them or had simply forgotten that he'd ever written such a song.
He did play my other requests, Always the Woman Pays and HolyJoe, just not when I yelled out for them. Fortunately the bearded chap next to me had a happy knack of calling for just the right song at just the right moment. Following Collapse Board, his next request was for Sometimes and Ed duly obliged. Acknowledging his excellent taste and mysterious ability to tap into Ed's unfathomable whims, I ceded all my future requests to him.
Eternally Ours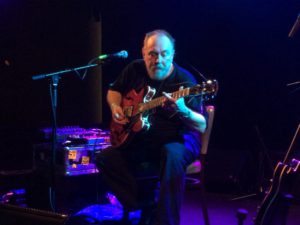 I didn't catch everything people yelled out for, but I was surprised to hear Ed play Burned My Fingers from Everybody's Got To. It's not a bad song as such, however, it is somewhat surprising that from a catalogue of several hundred songs, many of which are widely acknowledged for their stylistic daring and  groundbreaking compositional structure, that this comparatively straight forward song from arguably Ed's least memorable album, would be the one song someone would yell out to hear at a request show.
From this point on however, the choices were uniformly excellent: the previously requested Pavane, Horse Under Water and Holy Joe, which was the world's introduction to Laughing Clowns.  He claimed that Also Sprach the King of Euro-Disco kick-started the rave scene when a European DJ remixed it and it became in big in clubs. He played for us, he said, the extended Ibizia version.
He then closed his set with the classic Eternally Yours. This song was a staple of Laughing Clowns and Ed Kuepper shows for many years and Ed's layered, cyclical strum created hypnotic effect as ever.  The song, just as the title promises, is indeed eternally ours.
Returning for an encore Ed finally deigned to play the much yelled for Everything I've Got Belongs To You, setting off a swaying sing-a-long vibe.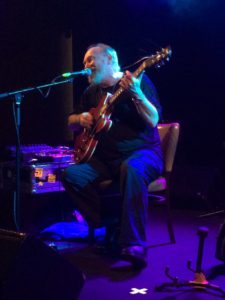 On seeking our input as to what the final song of the night should be, old Saints fans took over and I'm Stranded was the clear crowd favourite. In fact a chant went up. Ed teasingly strummed a chord, but paused to reflect on whether that was what we really did want to hear. The problem is he did this aloud, so of course everyone bellowed back reaffirmation of their choice. It was then he revealed that he didn't know the words – highly unlikely – and offered the compromise selection of Know Your Product, perhaps the second most known Saints song.
This seemed to satisfy everyone; the problem was of course that the song includes a very well known horn accompaniment. In the absence of a horn section, Ed enlisted the audience to provide the brass propulsion. After one rehearsal – just to get the tempo right – we were away, bellowing out 'Dah dah dah dah dah,  Dah dah dah dah dah' etc, to accompany Ed's strumming.
It was a fitting end to the night. He may not have played The Way I Made You Feel, but he had nevertheless made us feel upbeat as we hummed our way out of the venue and home.
From ground breaking punk band The Saints to avante-garde surrealists Laughing Clowns and through to his rock renaissance of the early 90s and beyond, Ed Kuepper has maintained a level of quality and consistency in Australian music perhaps only matched by Nick Cave. To quote the final line from the Mr Ed theme song, "He's always on a steady course, talk to Mr Ed"…just don't expect him to play your request.
Setlist
Collapse Board
It's Lunacy
Car Headlights
Little Fiddle
Not a Soul Around
Messin' With the Kid
La Di Doh
Sometimes
Always the Woman Pays
Burned My Fingers
Pavane
Horse Under Water
Holy Joe
Also Sprach the King of Euro-Disco (extended Ibizia version)
Eternally Yours
– – – – – – – – –
Everything I've Got Belongs To You
Know Your Product
Click here to read about The Saints' performance in October 2016.