Mitski
Mitski
The Corner Hotel – 7 February 2019
Laneway Festival, Footscray Park – 9 February 2019
$49.90, $175
RIDE 'EM COWGIRL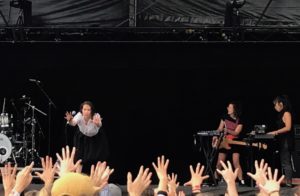 Much has changed in Mitski's world since she last played in Melbourne. She has released a critically acclaimed and commercially successful album, Be the Cowboy, that has seen her popularity swell and her indie darling status grow. She has injected her sound with a synth pop sheen, adding beeps and blasts of electronica to the thrum of guitar and bass. And if the screams and whoops that greeted her arrival on stage at The Corner Hotel for her pre-Laneway Festival sideshow are any indication, then the level of audience adoration has also gone up several notches. Although admittedly much of squealing was mine.
The main change however is in her stage performance. In December 2017 when she played Howler, Mitski was on bass with a guitarist and drummer in support and she barely moved away from the mic. It was a good gig, but a fairly standard rock format.
This time however, there were two additional musicians on bass and keyboards, which left Mitski to focus solely on vocals, and as it turned out, interpretive movement.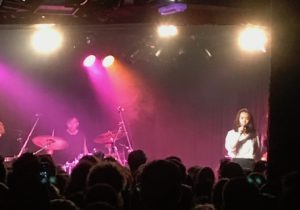 Perhaps she saw David Byrne's American Utopia tour and thought that swanning about the stage looked like more fun than playing bass. Or perhaps she has just always been a liturgical dancer trapped in the body of a bassist. Either way, she has developed a range of stylised hand gestures and arm movements, stances, poses and actions to accompany each song.
Some of them involve rolling about on the floor and kicking her legs in the air, some stalking the stage back and forth, and some n a half squat with legs spread. In one erotically charged moment, she cupped each of her breasts in turn, which caused a mild outbreak of pan-sexual yearning in the audience. A girl behind me at Laneway asked her boyfriend if he was okay.
For the most part Mitski remained deadpan, or in character. There was an element of David Byrne kookiness to some of her movements, some of Bowie's mannered posturing, a bit of Bjork wildness and some St Vincent sass. At the risk of cultural stereotyping her, if she added masks and costumes she could be transform her show into a Noh theatre piece.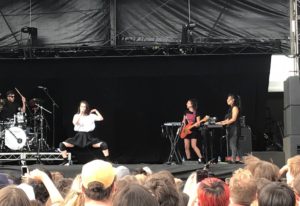 Where the audience at the Corner lapped it up, squealing anew for every mannered gesture, the more general audience at Laneway seemed slightly more baffled. Four guys in front of me who knew the songs and were obviously fans chuckled at her stylised movement – this despite the fact that they had each painted their faces with Ninja Turtle eye masks.
I don't necessarily have a preference for the respective performance styles, but it is good to see Mitski experimenting with her stagecraft and putting some thought into the art of performance.
These 'show' elements perhaps worked more successfully at the Corner, where the stage is smaller and the audience was exclusively hers. On the bigger expanse of the Laneway stage in the late afternoon with more distractions and without the assistance of lighting, her movements became a little lost.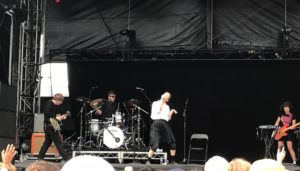 Despite her deadpan persona, she wasn't completely aloof – at the Corner show she commented on the pylons and worried about those standing behind them, while at Laneway she urged people to apply sunscreen, despite the overcast conditions.
Where the Laneway Festival set was an even mix of the best known songs from her three most recent albums, Be The Cowboy, Puberty 2 and Bury Me at Makeout Creek, the Corner Hotel set dug deeper into 'Cowboy' and even threw in a couple of songs from her second album, Retired From Sad, New Career in Business. At both shows Nobody, Best American Girl, Why Didn't You Tell Me and Happy received the most rapturous receptions.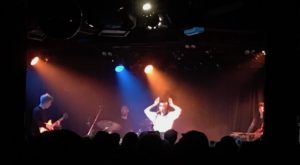 Patrick Hyland's incisive guitar shredding was not as dominant in this extended line-up as there were others to drive the songs along, plus the audience's attention was largely focussed on Mitski. But he is a great guitarist (producer etc) and an incredible live performer.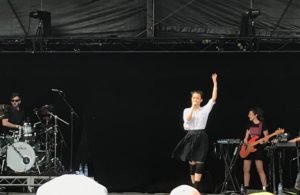 Mitski's songs are short and punchy. None outstay their welcome, yet she packs so much drama into them that they soar to unexpected, albeit brief, crescendos. And no matter how many art-rock pretensions she cloaks them in, their power busts through.
She concluded both sets with Drunk Walk Home and its incendiary refrain, "Fuck you and your money!" which at Laneway received a huge anti-capitalism roar of approval from the kids whose parents had paid upwards of $160 for them to be there.
Corner Hotel Setlist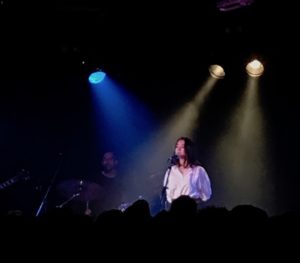 Remember My Name
I Don't Smoke
Washing Machine Heart
First Love / Late Spring
Francis Forever
Me and My Husband
Dan the Dancer
Once More to See You
A Pearl
Thursday Girl
I Will
Townie
Nobody
I Bet on Losing Dogs
I Want You
Your Best American Girl
Why Didn't You Stop Me?
Geyser
Happy
Come Into the Water
Drunk Walk Home
————————
Two Slow Dancers
Goodbye, My Danish Sweetheart
Laneway setlist
Francis Forever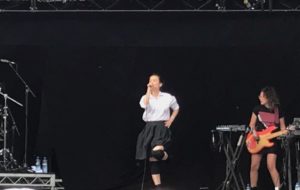 Me and My Husband
Dan the Dancer
Thursday Girl
I Will
Townie
Nobody
I Bet on Losing Dogs
Your Best American Girl
Why Didn't You Stop Me?
Geyser
Happy
Drunk Walk Home