Patti Smith, Courtney Barnett
Patti Smith
Courtney Barnett
Festival Hall, West Melbourne
Thursday 20 April 2017
$130
SHE IS BENEDICTION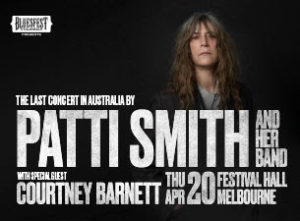 After appearances at Bluesfest and three shows at Hamer Hall performing her debut album, Horses, Patti Smith announced one more show at Festival Hall. Billed as her final ever Australian show, she was sharing the bill with Aussie songstress and flannelette shirt wearing hometown hero, Courtney Barnett.
Whether it is indeed Smith's final ever Australian show, (one must allow for the Nellie Melba, John Farnham syndrome), you couldn't escape the symbolism that Barnett was hereby being anointed by Smith as a sort of heir apparent and that this show represented a passing of the baton. Which is appropriate in a way because just 18 months earlier, Barnett was part of a line-up that performed Smith's Horses album at the Melbourne Festival.
Sticklers, nit-pickers and Gregorian calendar buffs might have found it odd that Patti was in town over Easter performing her Horses album, rather than say her album Easter. But hey, sometimes things aren't neat. Perhaps she can return during the Spring Racing Carnival and play Easter.
John and I chose this gig over Smith's Horses shows at Hamer Hall because we felt that Hamer Hall is too grand and refined for someone who might well sing songs like Rock 'n Roll Nigger and Piss Factory. The grime of Festival Hall's drab decor and the building's flat acoustics are far better suited to someone who began their career at CBGBs and whose best songs contain an element of raucous, rudimentary rock.
A point Patti herself acknowledged half way through the gig when she congratulated the audience for turning the venue into a 'club', saying that despite pre-show warnings that the venue was cavernous and intimidating, "It's really just a big, shitty club." She's right, it is shitty.
Ladysmith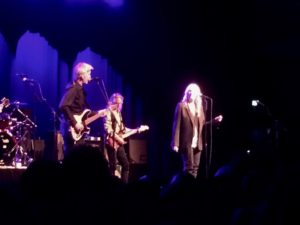 We live in a time when women are dominating the world of song and contemporary music. Whether it be the musical inventiveness of Bjork and Beyonce, the songcraft of PJ Harvey and Julia Holter, all-girl groups like Hinds and Haim, or the way-out weirdness of Tanya Taqaq and Tune-Yards. From FKA Twigs to Taylor Swift, Adele to Del Ray or Tori, Riri and Gaga, women have never been more prominent in rock. And that's not even taking into account the undeniable charms of Miley, Minaj and Minogue.
Such is the pre-eminence of women that even some of the men have become women, well Conchita and Anohni at least.
These women represent a diverse range of talents and musical styles, but one thing they have in common is that they each probably own at least one Patti Smith album, even if it is Horses just for the Robert Mapplethorpe photo on the cover.
It was fitting therefore that we pay due homage and attend the final Australian show by one of the pioneering women who helped forge an artistic path and show the way for other independent female performers.
Of course she is more than just an important female figure in music, she was also a trailblazer for the Smith cohort in the rock pantheon. Patti came after blues singer Bessie Smith, but since then there has been more than a smattering of Smiths; firstly, her partner, guitarist Fred 'Sonic' Smith from MC5, but also Robert Smith of The Cure, Elliott Smith, Sam Smith and the great Mark E. Smith, as well as bands Aerosmith, The Smith Street Band, Ladysmith Black Mambazo and of course, The Smiths, none of whom, as it happens, were actually called 'Smith.'
Patti Smith's place in rock history is assured however, if only because she once told Bono to 'Fuck off.'
Small Poppy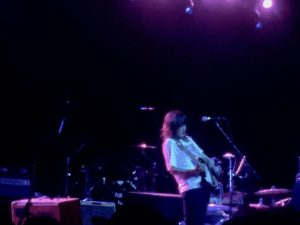 I'd planned to meet John at The Royal Mail Hotel, but I went to Hotel Spencer in error, which meant that by the time we finally met up and got in, Courtney Barnett had already started her set. And such was the slow service at the bar that she was well into her third song by the time we wandered out to join the throng in front of the stage.
Courtney and her band seemed dwarfed by the venue, pushed to the front of the stage and surrounded by the equipment already set up for Patti Smith and her band. They also suffered from the perennial plight of the support act in the sound department.
Nevertheless, they performed a solid set that overcame these limitations. Courtney gave us all her crowd-pleasers: History Eraser, Pedestrian at Best, Avant Gardener and Depreston. The latter already sounds dated, not in a musical sense, but from a real estate perspective; a 'spare half a million' wouldn't get you much in Preston anymore, certainly not a 'Californian Bungalow in a cul de sac,' even if it was a knockdown. In the two years since the song came out, the same house is now probably worth 1.2 million at least.
The highlight of her set was a raucous and impassioned delivery of Kim's Caravan, before she finished off with her party anthem, Nobody Really Cares if You Don't Go to the Party. Well, we do care Courtney and we were glad you decided to come out rather than 'stay home.'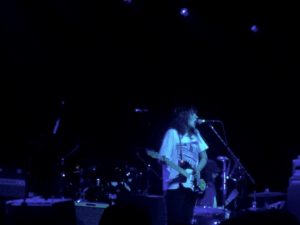 Patti Smith
Patti and her band came on stage to rapturous applause and immediately launched into Dancing Barefoot. With its opening line, "She is Benediction," Patti uttered what the audience was thinking. This is my favourite Patti Smith song so it augured well for the rest of the show.
The second song, Pumping, she dedicated to the boxers, a reference to the pugilistic sport with which the venue was once synonymous.
John and I were near the front just to the side, but the sound was quite good, by Festival Hall's standards, and we had a good view. Patti's voice was strong, better than ever really, and the band was tight.
Long-time sideman Lenny Kaye was on guitar with his long silver/grey hair mirroring Patti's. They've been playing together for so long now that they've begun to look like one other.
They played what Patti declared as her favourite song when she was 15 years old, Dylan's A Hard Rain's a-Gonna Fall. I also liked this song when I was young, although in my case it was Bryan Ferry's big stomping pop version that I had on a K-Tel compilation album. This is the song that Smith performed at the Nobel ceremony on Bob Dylan's behalf. On that occasion, she had to re-start the song after either forgetting the words – there are quite a lot of them it has to be said – or freezing up from nerves. This time she held a helpful lyric sheet for the verses and got the audience to take over for the song's title refrain or chorus.
Free Money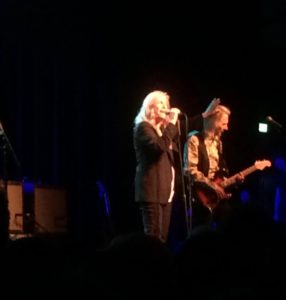 After several nights performing Horses, her and the band were probably enjoying the opportunity to play something else. They did play Break it Up from that album, which Smith said was based on a dream about Jim Morrisson. She did explain the dream, but it made as much sense as anyone else explaining a dream, and perhaps less given that Jim Morrisson was in it.
Otherwise the setlist spanned several albums and featured well known anthems like Pissing in a River and relatively obscure songs like Beneath the Southern Cross from her mid 90s album Gone Again. Not to be confused with the song the Australian cricket team sing after a Test match victory.
A rousing version of People Have the Power saw Courtney Barnett join the band on stage. As the song wound up to its crescendo, Patti waved to the audience and went to exit triumphantly to stage left, only to be reminded by one of her band members that they hadn't finished.
Smith's stage presence is quite remarkable. She is gracious and self-deprecating and exudes an aura of quiet calm, like a priestess. This despite the punk rock ethos behind much of the music and her occasional gobbing onto the stage like a half forward who has just missed a shot on goal.
She displayed genuine gratitude when thanking the audience, not just for coming, but for paying to see her, and added that she understood the tickets were quite expensive. Which indeed they were; General Admission tickets for this show were $130, a rung or two up on what you might expect to pay for a Festival Hall show without costumes, props and fireworks. For her Hamer Hall shows, A Reserve seats cost $200! I don't know why the tickets were so expensive, but it was nice at least for her to acknowledge the audience's financial investment in the show.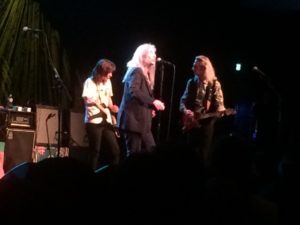 I thought this was a preamble leading into Free Money, but no. The final song of the set began as Land during which Smith embarked on a long stream of consciousness poetic narrative that placed the 'Johnny' of the song at the heart of Australia in Uluru. I watched Lenny Kaye beside her playing a sort of time keeping guitar chug and wondered how much of his life must he have spent over the years maintaining a bedrock of basic sound while Patti extemporised free-form verse over it. Mostly during renditions of Land, but really, no Patti Smith song is safe from mid-song versifying. Land soon morphed into Gloria and the place erupted into a raucous spelling bee as the audience shouted out the letters that make up the song's title. With Easter just gone, questions surrounding the cause of Jesus' death were front of mind for many people, so the song and her famous line, 'Jesus died for someone's sins, but not mine' felt as topical and relevant as ever.
The encore began with her big hit – and her only hit here in Australia – Because the Night, which I felt lacked just a little in the rousing, anthemic department. Perhaps they were deliberately underplaying it to allow the audience the space to give full expression to the chorus. I heard Springsteen, who composed the song, play it earlier in the year and it was the highlight of the show. He injected more of a triumphant element into his reading, but then he had a 15-piece band behind him and an audience of 25,000 people in front of him, so he was at something of an advantage.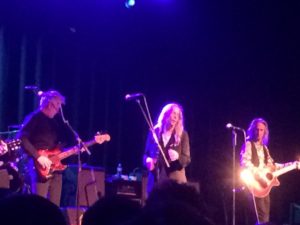 They followed this with Rock 'n Roll Nigger – I'm not sure whether I can use that word, even when quoting someone else's song title, but Patti Smith herself evidently felt no such qualms for she fairly bellowed it out. She is perhaps the only white person with permission to use the 'N' word in public, let alone chant it repeatedly through a PA system.
The band assembled at the front of the stage for a bow, but unable to leave, Patti performed an a capella version of Wing, her voice filling the room with poise and clarity. It is a beautiful song from Gone Again, about spiritual and emotional liberty – well, that's how I interpret it – and its final image of a wing soaring 'in heaven blue' was a touching note on which to conclude her final ever Australian show – until the next one perhaps.
This was a remarkable show, all the more because in a year when I've seen Nick Cave, PJ Harvey and Bruce Springsteen perform, this is already looming as the gig of the year.
Setlist
Dancing Barefoot
Pumping
Ghost Dance
A Hard Rains a Gonna Fall
Break it Up
Ain't It Strange
Pissing in a River
Beneath the Southern Cross
People Have the Power
Land/Gloria: In Excelsis Deo
– – – – – – – –
Because the Night
Rock 'n Roll Nigger
Wing