Morrissey
Morrissey
Festival Hall, West Melbourne
Saturday 22 October 2016
$100
VIVA MORRISSEY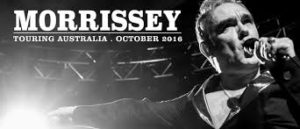 Oh my god, it's come to this. I was in a clothing store last Friday when the male shop assistant asked me what I had on for the weekend. Rather than simply say 'not much' as I generally do in such circumstances, simply to avoid prolonging a pointless exchange, on this occasion I thought I'd answer truthfully.
"Morrissey" I said from behind the change room curtain. "I'm going to see Morrissey" and waited for the envious hum of approval, a polite 'oh really,' or even a comment reflecting a degree of surprise that he was still alive.
"Is that a film?" the sales guy asked.
"No. Morrissey, the singer."
"Morrisson, you said? Van Morrisson?"
"No, no. Morrissey. English singer. Lead singer of The Smiths."
He enquired of his colleagues if any of them had heard of this Morrissey. No they hadn't. The Smiths? Nope.
I wondered if it would be helpful were I to reel off a series of song titles, Bigmouth Strikes Again, This Charming Man, Everyday Is Like Sunday, You're the One For Me Fatty, but thought better of it.
In what strange universe had I landed where people didn't know who Morrissey was? Well, it was Roger David in Highpoint, which I realise exists on a slightly different plane to general society, but even so, surely everyone with a passing interest in music has at least heard of The Smiths or Morrissey, Even if they just think he is a pretentious twat or a whingeing vegan?
Having said that The Smiths existed in a time when the term 'indie' actually meant what it articulated, i.e. not mainstream, so they were a little bit obscure even in their heyday. Plus, when you think about it, their last record came out in 1987, nearly 30 years ago. The sales staff would have been in their mid to late 20s, so I suppose it was not that surprising that they hadn't heard of a band who didn't have any hits and had broken up before they were born. And it's not like Morrissey has troubled the charts since any of them entered adulthood, so their ignorance is not a sign of anything other than simply being of their time and generation. I don't know what that says about me – probably the same.
I imagine Morrissey at least would be delighted to know that there is an entire generation of people who have no idea who he is. As he himself sang in That Joke Isn't Funny Anymore, 'Time's tide will smother you.' Looks like he's been vindicated.
I Was Looking For a Job…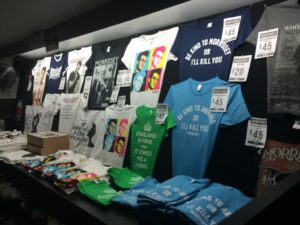 This was to be my final weekend of idle loafing. After a long period of unemployment I was due to begin a new job on the Monday following the concert, so it was appropriate to be sharing these final moments of freedom with Morrissey. Apart from the prospect of a celebratory evening singing along with some of my favourite songs, it was Morrissey, who in 1984, the very year I first entered the workforce, coined one of his many immortal lines, 'I was looking for a job and then I found a job, and heaven knows I'm miserable now.'
It may have rung truer then than now, for truth be told I was quite happy to be gainfully employed again. If nothing else I needed some way to fund my ongoing concert tickets.
When I wrote about seeing Johnny Marr play in January 2014 – see article here – I questioned whether I should have bought his tour t-shirt that read Johnny Fucking Marr. In the end I didn't because I couldn't imagine an occasion when I would get to wear such a garment. My friend Phillip wrote to me say that surely the next Morrissey tour presented the ideal opportunity. He was right of course.
As I waited for fellow Moz buff Jason to join me in the Hotel Spencer before the show, I watched the people enter wearing an array of Smiths and Morrissey t-shirts, and realised that the Johnny Fucking Marr t-shirt would indeed have been the perfect attire for Morrissey's show. Just as the t-shirt in Morrissey's merch stall showing Oscar Wilde with the quote 'Who Is Morrissey?' would have been perfect for a Johnny Marr show, or indeed the Roger David store at Highpoint.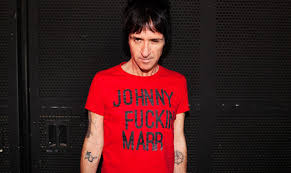 I'm Throwing My Arms Around Melbourne
Festival Hall is an oddly named venue. Essentially a glorified shed, it is painted in a shade of slate grey that would look too gloomy even for a prison. It occupies an unprepossessing site on a freeway exit ramp in an unfashionable industrial wasteland on the edge of the city, just around the corner from the Melbourne Remand Centre. In other words it is the last place you would ever hold a festival.
Having said that, it is Melbourne's most enduring music venue and has hosted everyone from The Beatles, Sinatra, Dylan, Johnny Cash, Lou Reed, Queen, The Clash, Sex Pistols, REM, Radiohead and The Strokes, as well as Liberace, Nana Maskouri, Leo Sayer, The Bay City Rollers and Sherbet – basically everyone except Bowie and Elvis – Presley that is, Costello has certainly played there.
It was also the venue for Morrissey's most recent show in Melbourne in December 2012. I attended that concert with my friend John and it was fantastic. From memory he played quite a few Smiths songs and during the course of the show divested himself of several shirts that he threw into the audience. About 15 minutes after the gig finished, John and I were standing near the back of the venue when we detected a disturbance among the crowd and noticed a knot of angry people hurtling in our direction.
At first we thought it was a routine scuffle, but then we noticed they were all tugging on different parts of a shirt. Six or seven grown adults aged in their 30s and 40s, their faces red with rage and determination, all straining to claim ownership of Morrissey's discarded shirt. This stand-off must have been going for 20 to 30 minutes! I thought buying a pillow-case depicting Morrissey's head and the quote, 'Last night I dreamt that somebody loved me' was a bit sad, but at least I wasn't fighting over dirty laundry.
Not that I can judge too harshly, were it Kylie's gold shorts or PJ Harvey's underwear, I'd have to be killed before I let go.
Festival Hall was also the venue of Morrissey's first cancelled show in Melbourne in 1991. I remember it because on that day Hawthorn won a close second-semi final against Geelong to make the Grand Final. To make things even better, when Darren Jarman kicked the winning goal the ball bounced into my arms. Well that's how I remember it anyway. What scenes of celebration – making the Grand Final, marking the winning kick and Morrissey's first Melbourne performance all in one day! Until of course Morrissey cancelled the show.
Hawthorn won the premiership two weeks later, but it would be more than 10 years before Morrissey returned to Australia. When he finally walked onto a Melbourne stage for the first time in October 2002, the roar in The Forum was every bit as loud as the roar at VFL Park on the day Jarman kicked the winning goal. Incidentally, that 1991 Hawthorn team had a player named Morrissey. It goes without saying that among the Moz fans, his nickname was Suedehead.
Alma Mater
So really, Festival Hall is the Alma Mater of Melbourne music fans and this would be Morrissey's second show at the venue. In a way, it's a venue that suits him. Not just because it is slightly insalubrious, but given his abiding interest in underworld figures and the glamour he seems to attach to gangs, he might be delighted to learn that Festival Hall's architect was John Wren – Melbourne's original ganglord, a sort of Ronnie and Reggie Krane in one person.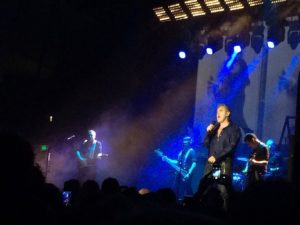 Jason and I had floor tickets so we were going to be in amongst it. We took up a spot a bit to the side but not too far back. It wasn't so crowded when we wandered in about 15 minutes before showtime, but the crowd built quickly and any thoughts of checking out the merch stand, getting a drink or a Morrissey approved vegan snack pack soon vanished.
There was no support act, Morrissey choosing instead to show a video, something he has done for a while now. The video is a sort of mash up of pop culture snippets with political and social footage. I don't know if the motivation for the video is because he doesn't want to have to mix with any local bands backstage, or because he suspects his loyal and parochial audience might be hostile to them. The best bit was a clip of The New York Dolls performing Looking For a Kiss, but there was nothing unexpected. Anyone going to a Morrissey gig is probably reasonably familiar with his iconography, and so it really just served as a sort of fanfare for the appearance of the great man.
Songlines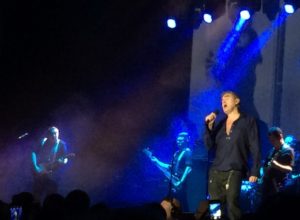 When the band appeared, they were dressed in matching dark shirts and pants with braces, like the bovver boys of Morrissey's fantasies. The Moz of course was not dressed in the band uniform, just to emphasise for anyone who may have been in any doubt that he stands apart from all others. He was wearing dark trousers and a midnight blue shirt open at the neck to expose his manly chest.
"We are really nice" he barked into the microphone just as the opening riff from Suedehead rang out to kick things off. Fitting that the song that launched his solo career should also open the show, but it didn't signal a procession of singles and hits. B-sides and deep album cuts were as prevalent over the course of the next 90 minutes as any of what might be called his hits.
He followed Suedehead with Alma Matters, one of only a few good songs from Maladjusted, arguably the low point of his solo career, and then Speedway, the final roaring number from Vauxhall and I, perhaps the high point of his solo career. Gustavo Manzur moved to the mic and delivered the lead vocal of the final verse in Spanish.
The Moz continued mixing it up, performing Ganglord, an obscure B-side of uncertain provenance, but appropriate here given John Wren's connection to the venue, followed by the first of only a few Smiths songs we would hear, the mighty How Soon Is Now. It is easy to bandy about terms like 'timeless masterpiece', but for this song at least, timelessness is incorporated into the title. To be honest, I think Johnny Marr's live version had more oomph, but Morrissey's rendition did feature Matthew Walker on drums bringing the song to a close with a resounding flourish on the giant gong.
Perhaps the only thing more surprising than the reach of the setlist was the number of people who felt the need to push past Jason and I, either escaping the dense throng of people to reach the bar or toilet, or drink secured, delving back into it. Somehow, within the heavy press of people crowded in and around the stage, the exact spot Jason and I were standing had been deemed a communal thoroughfare. Just as Indigenous Australians are said to be able to navigate across the land by following songlines or dreaming tracks that are invisible to the eye, but intuitively known by those equipped to read them, we seemed to occupy some sort of major landmark for Morrissey fans.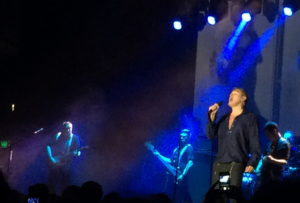 Morrissey, meanwhile, continued to follow his own songlines, mixing things up with a few tracks from his most recent album, Kiss Me a Lot, Istanbul and the title track, World Peace is None of Your Business; more B-sides, Jack the Ripper, All You Need is Me; and even the occasional single, Ouija Board, Ouija Board and Everyday is Like Sunday.
The latter triggered a mass sing-a-long of the lines, "Come Armageddon Come!" which might sound like a perverse sort of petition, but with Donald Trump closing in on the White House, it might turn out to be rather prescient. If Donald Trump does win the election on 8 November, Morrissey might have to add November Spawned a Monster into his set.
Not that Morrissey would seem to have a preference for either Trump or Clinton, at one point expressing his surprise at Australia's interest in international political affairs and describing both candidates as 'silly people vying for a silly job.' Not limiting his disdain to American political leaders, the visual backdrop that accompanied The World is Full of Crashing Bores showed Will and Kate against a Union Jack background.
If the songlines tracked straight through me, the sight lines were another thing altogether. To keep Morrissey in view I had to adopt the sort of hunched posture Olivier brought to his portrayal of Richard the Third. As he sang It's Hard to Walk Tall When You're Small (where was he finding some of these songs?) and a thicket of gargantuan oafs blocked my view, I added my own sub heading, 'And Its' Even Harder To See a Fucking Thing At a Morrissey Concert.'
The sound was actually pretty good for Festival Hall, but then the band weren't imbuing the songs with a great deal of subtlety. As Jason commented after the gig, he hadn't expected to hear quite so many power chords. But under Boz Boorer's command, they played loud and fast, eschewing touch for power and dynamics. "Are you being mildly entertained?" Morrissey asked of us at one point, but there was nothing 'mild' about it.
Adding to the general heft of the sound, Morrissey's voice was prominent in the mix. The vocals were nice and clear, allowing those of us in the audience singing along to give full vent to our emoting.
They closed the set with You're The One For Me Fatty, which Morrissey dedicated to all of us in the audience, and You Have Killed Me – two scalding guitar numbers that highlighted the band's muscle.
A haunting mooing noise and graphic footage of abattoir slaughter scenes heralded Morrissey's great vegetarian anthem, Meat is Murder, which he sang with great venom. The band also gave it extra gravitas with Walker pounding his big floor toms to accentuate the drama.
Bulbous Salutations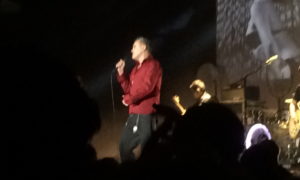 When they returned to the stage The Moz was adorned in a new red shirt. "And you thought you'd bought tickets to Kinky Boots" he quipped as the band kicked in with the rollicking Smiths number What She Said.
This song always reminds me of my Dad, in particular the lines, "It took a tattooed boy form Birkenhead to really really open her eyes". Not that my dad was tattooed, and it is doubtful he ever really opened anyone's eyes, but he was from Birkenhead at least. Two-thirds through, the song morphed into another Smiths fave, Rubber Ring and as it reached its climax, Morrissey stripped off his shirt and hurled it into the audience for them to brawl over.
The band gathered centre stage about the shirtless singer to farewell the audience and that was it.
A blistering sonic assault from the band and a set list full of surprises made for a tremendous show. In the much mocked phrase he coined to describe male arousal in his much mocked novel, List of the Lost, it was 'bulbous salutations' all round by the end, particularly with Morrissey standing shirtless amidst his band members centre stage to farewell the audience.
Setlist
Suedehead
Alma Matters
Speedway
Ganglord
How Soon is Now?
Kiss Me a Lot
I'm Throwing My Arms Around Paris
Istanbul
World Peace is None of Your Business
Jack the Ripper
I Will See You in Far Off Places
All You Need is Me
Ouija Board, Ouija Board
The Bullfighter Dies
It's Hard to Walk Tall When You're Small
The World is Full of Crashing Bores
Everyday Is like Sunday
You're the One For Me Fatty
You Have Killed Me
Meat is Murder
– – – – – – – – –
What She Said