Hush: Music at Parliament
Hush: An Evening of Quiet Music at the Parliament
Dan Kelly, Teeth & Tongue, Jess Ribeiro, Melody Pool & more
Parliament House, Melbourne
Tuesday 15 November 2016
$35
MIXING POP AND POLITICS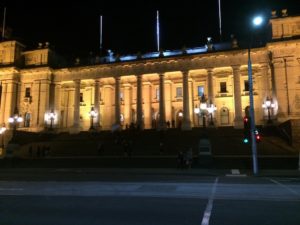 Melbourne regularly wins the award as the world's most liveable city. I'm not sure what spurious voting criteria is in operation, but if I had to nominate a couple of points of difference between Melbourne and any other metropolis that may be in the running, I'd say AFL, the tram restaurant and public holidays for a horse race and Grand Final eve.
Melbourne Melbourne Music Week is also emerging as one of the main  reasons to be in the city in mid-November. If you've hung around after the Melbourne Cup that is. Over the course of a week or so, dozens of local acts and artists from across Australia perform in a range of iconic venues. This year the festival co-opted for venues the Old Melbourne Gaol, the Town Hall, Vic Market, the MCG, various laneways, the banks of the Yarra, the Reading room at the State Library, Parliament House and aboard a tram. In other words pretty much anywhere except a concert hall.
Most of the events are very reasonably priced and many of them are free, so if the aim is to promote local acts to a new audience, then they are making it as easy as possible.
Whatever other shortcomings the Victorian government and Melbourne City Council may have – and it's probably best not to get me started – at least they enable this event to take place. And if that's all our elected officials achieve, in amongst the various sex scandals, corruption allegations, dodgy deals with developers and transporting pet dogs about in chauffeur driven government cars, then perhaps that is enough.
I've seen some good events in recent years; HTRK in a church, Kingswood at Vic Market and The Brian Jonestown Massacre at the Town Hall. Admittedly that last one dragged on longer than any concert not performed by Springsteen has any right to, but it still had its moments.
This year's program featured a number of interesting shows. I was keen to see Severed Heads, one of the great pioneering electronic outfits from the early 1980s, but their show was advertised as lasting until 4am. Either they suffer from insomnia or they've aged far better than me, because there was no way I'd be able to endure until that hour. 
The Day Democracy Died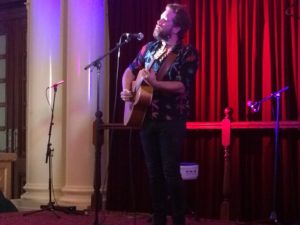 Like most people, when I saw an event called 'Hush', I immediately started humming Boney Maroney and thought, 'Great, Keith Lamb, Les Gock and the boys are getting back together. I'm there!' Alas, it was not the return  of Australia's premier glam rock outfit from the 1970s, but a multi-artist event to be held at Parliament House called Hush: An Evening of Quiet Music at the Parliament.
I chose to go anyway. Partly because I like Teeth & Tongue, Dan Kelly and Jess Ribeiro, who were scheduled to play, and partly because I've never been inside Parliament House and this seemed like as good an excuse as any – particularly as there would be no politicians clogging up the corridors to hamper proceedings.
As it turned out, this was a propitious week to be visiting Parliament House. With the good citizens of the United States electing Donald Trump as their next president you could argue that democracy had just killed itself anyway, so why not turn our own parliament over to rock and roll rabble. 'Mixing pop and politics' as Billy Bragg once sang.
If nothing else, I thought, this show might herald the first sensible words spoken in Victoria's parliament since the Eureka Rebellion gave rise to Victoria becoming the first government in the world to introduce the secret ballot for elections. Or the third depending on which historian you listen to.
Quiet Please
The idea behind the gig was that the audience had to be quiet during performances. It was the brainchild of singer-songwriter Davey Craddock and radio presenter Stacey Gougoulis, who had grown sick of struggling to hear performers over the yakking multitudes at pub venues.
"Treat it like a tennis match" Craddock explained during the introduction in the Queen's Hall, "you stay quiet while the musicians are playing and then you applaud at the end of each point, or in this case, song."
Given the behaviour of Australian tennis players in recent years, I wasn't sure that they were necessarily the gold standard of civility that should be held up as an example. However, I suppose Craddock was referring to audience courtesy, not that of the protagonists. In fact such are the general good manners of the modern musician that they could learn a thing from Nick Kyrgios and Bernard Tomic about proper brattish rock star behaviour.
There were three venues inside Parliament House: Queen's Hall, the main room that seated about 200 people, the Sessions Café that seated 100 or so and the North Library that accommodated about 50 people. A few of the acts clashed so there was always going to be a bit of FOMO about the acts I caught, but I mapped out an itinerary that took in each of the rooms and the acts I already particularly liked.
In doing so I sacrificed Man Made Mountain, Grand Salvo and Siu Zhen, not because I have anything against those performers, but because I'm also lazy and didn't want to be climbing the stairs to the Sessions Café any more than necessary.
The Grand Magoozi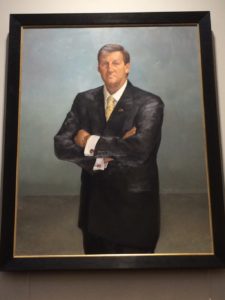 The Grand Magoozi kicked things off with their gentle, whimsical country folk tunes. As first act on with no one clashing, they had a reasonably sizeable audience and lead singer and guitarist Suzie Scurry knew how to charm those assembled.
Befitting its name, the Queen's Hall is was a grand setting with its high ceiling and gold leaf highlights as well as portraits of former premiers looking down on the audience from either side. Seeing recent Liberal party premiers Ted Ballieau and Jeff Kennett up there might have been especially off-putting for the performers, but in light of Donald Trump's election, even they looked like reasonable electoral choices.
I don't know the genesis of the name The Grand Magoozi, but it wouldn't be a bad moniker for the Premier of Victoria – all we need are some suitably garish ceremonial robes to match. Current Grand Magoozi of Victoria Daniel Andrews wasn't present, but given the size of his ears, he could be several rooms away and still hear what was going on.
Davey Craddock
Co-organiser of the event, Davey Craddock, is a singer-songwriter, also in the country-folk tradition. He was set up in the North Library, a smallish room with about 50 seats set up amid walls of books divided by Doric columns and ladders offering access to the top shelves.
Most of the book titles were impressive tomes about economic theory, but there is another, much larger, main library closed to us on this night, where presumably the more important and well-thumbed political tell-alls, football biographies and steamy S&M fiction is housed.
Craddock was an engaging performer who offered entertaining commentary between songs. One song, Madeline, described a strong and sturdy worker type as 'an anvil in a flannel' and also somehow worked in Dylan's famous line, 'The pump don't work cos' the vandals too k the handle' but in context, which is no mean feat, and certainly more than Dylan could do.
He also played Springsteen's Promised Land as a reaction against Trump's election.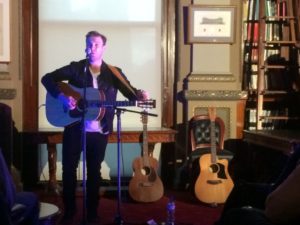 Dan Kelly
From here it was back to Queen's Hall for Dan Kelly, who is the nephew of Paul Kelly or Sean Kelly, one or the other. Although given his seeming disrespect for the organs of government and his unkempt beard, it's possible he is a distant relative of the famous outlaw Ned Kelly. As it happens he also possesses the same sharp humour of a friend of mine called Justin Kelly.
Kelly is one of those performers whose between song banter is as important to the show as the songs he sings. For Drunk on Election Night he asked Lachlan on sound to give him just enough reverb so that he sounded like a young Steve Bracks. For Bindi Irwin Apocalypse Jam, he wanted to sound like Alexander Downer after a night on MDMA.
And the songs provided their own political commentary: Exhibit A his opening song Baby Bonus, that critiqued the type of people who think women have babies just to take advantage of government welfare.
Drunk on Election Night, he told us was originally written in response to a John Howard electoral victory in Australia, but was easily transposed to a Trump triumph. In it he asked the audience to provide falsetto backing vocals of "cocksucker, motherfucker." It was just like Question Time really, just more melodic and perhaps less vulgar.
There was also a song about Byron Bay called Everything's Amazing while his final song was a sort of psychedelic Dylanesque dream about hanging out with Bindi Irwin in an underwater community, replete with aquatic sound affects and a request for the audience to provide their best impressions of aquamarine life.
I'm not sure which famous Kelly forbear he is related to, but his songs suggest he has a little of all three: Paul's social observation, Sean's surreal construction and Ned' political conviction.
Setlist
Baby Bonus
Drunk on Election Night
Haters
Everything's Amazing
Bindi Irwin Apocalypse Jam
Jess Ribeiro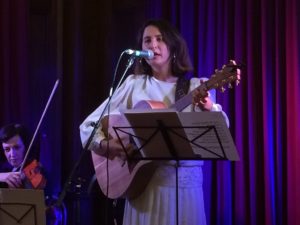 The Sessions Café on Level two is an L-shaped room offering views over Spring Street and Victoria Parade. Jess was set up in the corner of the room with a string section (cell, violin, viola) as well as a backing vocalist. I pulled up a comfy leather seat near the front, alongside the girl I'd sat next to at Dan Kelly. I'm sure she thought I was stalking her, and perhaps in another time and place I might, but in this instance Jess Ribeiro was the attraction and the only free seats were right up the front.
Jess was dressed all in white, but not sassy Derby Day white, more ABC period drama white, for she wore a top with long puffy sleeves and a shin length pleated skirt with white socks and black school shoes. It looked like something she'd borrowed from Sigrid Thornton.
It may seem typically sexist to highlight her outfit when I haven't mentioned anyone else's (was that a Hawaiian shirt Dan Kelly was wearing?), but I don't mean it that way. Jess Ribeiro is refreshingly daggy and seemingly free of any contrived image – unless the unfashionable, dowdy look is the very contrived image she is cultivating, in which case it is equally brilliant.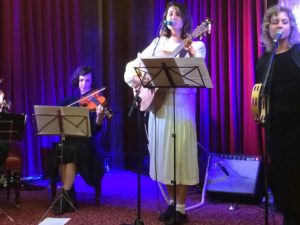 More importantly, she is a great songwriter and a compelling performer. Last time I'd seen her – check it out here – she had a more conventional rock band set up, so it was intriguing to see her with a string trio backing, even though this type of chamber music sound does feature on her record.
First up though was a dancer who, dressed in flowing red, white and blue chiffon, performed a silent interpretive 'zodiac' dance to the respectful, if somewhat bemused onlookers. I say bemused because no one knew whether they should applaud or not. Was it a sacred Indigenous dance that would be cheapened with applause, or was it a party piece that warranted a few unchecked 'whoops' and shouts of 'Shake it Baby'? No one knew.
Happily the string trio ended the awkwardness by playing the slow, languorous intro to The Wild, the opening track from Jess Ribeiro's album Kill It Yourself. Ribeiro's choice of material suited the string accompaniment and she sang beautifully. It's not a big Beyonce voice, but she has an intriguing inflection, part country twang and part cabaret catcall, that she used with particularly effect in the beautifully elegiac Strange Game.
Hurry Back To Love maintained its urgent chug with the cello taking the place of the rhythm section, and there was one new song, or at least one song I'm not familiar with called, Where Are You Tonight.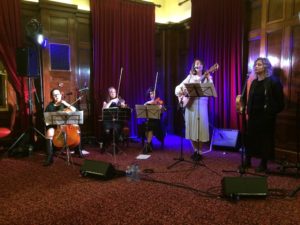 She closed her short set with If You Were a Kelpie that she dedicated to her former PE teacher. Apparently he expressed his disappointment by saying, 'If you were a kelpie, I'd shoot you.' It seems a bit breedist, but hey, perhaps he had good reasons to distrust that particular breed of dog. It's the sort of song that David McComb might once have written for The Triffids. I think she shares with McComb a sharp ear for the Australian idiom and the ability to evoke the Australian landscape. Or is it just that with Chicken Killer (McComb) and Kill It Yourself (Ribeiro), they both wrote song about slaughtering poultry?
As her dress sense shows, Riberiro is certainly her own woman, but she could have worse songwriting role models than McComb. In fact The Triffids have some shows coming up at the corner Hotel, and I think Jess Robeiro would add a compatible voice to the songs.
Setlist
The Wild
Strange Game
Hurry Back To Love
Where Are You Tonight?
If You Were a Kelpie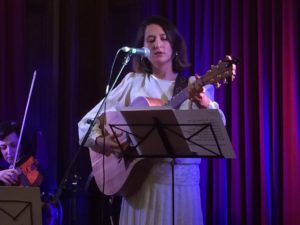 Melody Pool
Melody Pool was already mid-song when I snuck back into the library to catch her set. My wife Angela and my friend John have both seen Melody Pool perform so I went in armed with their recommendation. But even without their testimonial there is something reassuring about a singer named Melody. It's like reading a poem by Wordsworth or watching David Hookes play a short-pitched delivery.
Of course I suppose the same might have been said of her had she become a swimmer.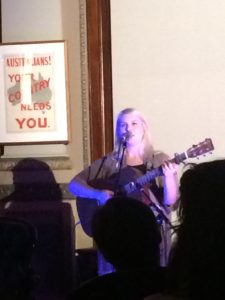 She lived up to her first name too, for all her songs exuded a degree of tunefulness. But more than that, they also dripped with drama and melancholy.
If this had been a sad week for democracy, it was an equally sad one in music, for the day after Trump was elected, the great Leonard Cohen died. Listening to Melody Pool provided some solace, for her music carried an echo of Cohen's. And it will come as no surprise to learn that the song that most resembled one of Laughing Lenny's in emotive lyricism – and even a couple of rhymes ('room' and 'perfume') was called Black Dog.
While I can't say whether Cohen has been an active influence on her music, I can certainly say that Fleetwood Mac has. She admitted as much in her introduction to Romantic Things, a song that indeed sounded like it might be a cover of something from Rumours.
The ease with which she could pay vocal homage to Stevie Nicks just goes to highlight the versatility of her voice. Even if she sang with a little less waving of chiffon, her voice carried more power than the nasally Californian.
The limits and beauty of this intimate library setting were illustrated during Richard when she had to step away from the microphone while giving full vent to her larynx, for fear of deafening us.
Cohen may have been the 'grocer of despair', but now that he's hung up his apron, perhaps Melody Pool, with her dark, sombre songs is the work experience kid who can keep the business going.
Setlist
Southern Nightshade
Romantic Things
Richard
Black Dog
Love She Loves Me
Teeth & Tongue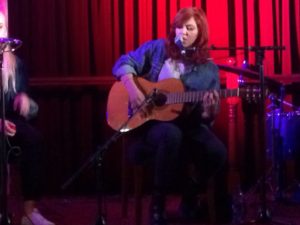 My love of Teeth & Tongue is well documented – see previous posts: Aug 2015 & Sept 2016 – I readily concede that this is partly fuelled by my slight obsession with singer Jess Cornelius (she reminds me a bit of my wife, though I'd be reluctant to reveal that to either party). But mainly I love Teeth & Tongue because their third album, Grids, is a rich and evocative mix of indie guitar pop and baroque cabaret stylings.
If their current album Give Up On Your Health is not quite as strong, it is still pretty good. Propelled mainly by synths, it has more of a dance, pop feel with crisp beats and smooth production.  Even so, the songs still have depth, catchy riffs, melody and Cornelius sings with verve and resonance.
For this gig they were going unplugged – well sort of. Marc Regueiro-McKelvie still wielded his electric axe, even if he was sitting down, but Cornelius had an acoustic guitar and drummer James Harvey only had a snare, floor tom and cymbal. Backing vocalist (is it Jade McInally?) was on hand, but there wasn't a keyboard in sight and bassist Damian Sullivan hadn't even turned up.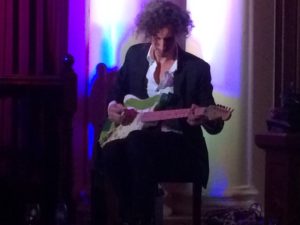 The room was still filling up with stragglers coming in from Siu-Zhen's set when they started strumming out Turn, Turn, Turn. On record it is driven by electronic beats and fizzing synths, but here it became a gentle, melodic slice of guitar pop. Of all the songs on their new album it is probably the one that most successfully marries indie guitar pop with 80s synth pop. In a fairer world this would be a hit, but in a fairer world, Hilary Clinton would be president, Sam Mitchell would still be at Hawthorn and Jess Cornelius would find herself irresistibly drawn to short, pudgy, balding 50-year old men. So on the scale of misfortune, Teeth & Tongue's relative obscurity is the one I can most easily live with.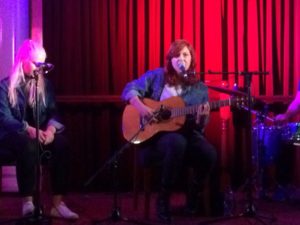 The inherent strength of the songs was evidenced by how seamlessly they transferred to their new acoustic setting. Call Back and Do Harm perhaps even benefited from the more raw, acoustic feel, while single Dianne would rollick along with a banjo and bagpipe accompaniment.
They closed with a new song, Jealousy that hinted at a return to a more baroque sound of Grids, but this may have just been the acoustic setting. By the time it's recorded, it could be a death metal track, dub step or a nursery rhyme. I'd welcome any new direction they chose to go in, so long as Jess Cornelius was out front on vocals, though by then she might have a restraining order out on me.
Setlist
Turn Turn Turn
Call Back
Do Harm
Dianne
Give Up on Your Health
Jealousy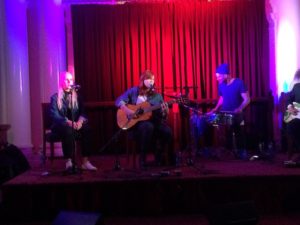 On that note, Parliament rose. I don't know if Hansard was operating on the evening, but it would make for more interesting reading than the proceedings normally recorded in that house.
On the whole people respected the concept of the show and refrained from talking during the acts, but to be honest, the intimate setting of the performances was enough to keep everyone quiet anyway.
This was a truly excellent night. The only problem for me were the brief sets that each act played – just five songs each, except for Teeth & Tongue who snuck in a sixth. The privilege of headlining perhaps, but I think I'd rather have fewer acts playing longer sets –  not necessarily a gruelling Lleyton Hewitt five setter, but something more than these brief cameos.